---
Driverless car coverage since 2013: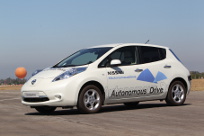 ---
Historic diary notes
(Scroll to bottom for latest entries)
5 December 2013
The government in the UK today makes an offer of £10m for a town or city to become a testing ground for driverless cars (The Driverless Car Challenge). Contact us if you would like some help in preparing a submission.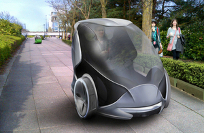 Milton Keynes driverless pod Photo: Department for Business, Innovation and Skills
11 December 2013
In this simulation video the emphasis is on onboard driving and navigation systems and on car-to-car communications. Both these can be independent of location but there is also some wireless communication with public infrastructure in the form of traffic lights and overhead gantries.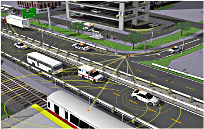 Traffic lights could electronically also perform all the functions of parking meters in nearby streets, for instance. Motorway road widths could slim down from three lanes to two lanes and carry the same amount of traffic if most vehicles were autonomous (or in the transition years, two lanes could be designated for conventional vehicles and one for autonomous - this might be quite likely if semi-autonomous commercial vehicle roadtrains emerge before fully autonomous cars).
The savings for highway authorities could be substantial if roads could be narrower.
6 January 2014
We are not a design consultancy but we can help you draw up a brief of what your designers must consider.
Roadspace will need to be modified for new types of vehicle. This should not underestimated. It will not just be a change of types; the new will have to co-exist with the old. In Newmarket, England all the bye-laws favour the horse, all types of road traffic give way to it and there are even concrete paved and soft surfaced bridleways running alongside some tarmacadam roads to ensure unimpeded passage of the horse.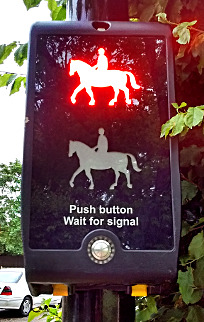 If you look carefully there are differences from other towns: there are fewer traffic lights and apparently never in a place where a string of horses might be held up by them.
Unlike horses, autonomous vehicles can give way very readily at low speeds but they will require fewer traffic lights. They will also be able to automatically avoid most of the collisions that take place between cycles and vehicles so enhancing safety in cycle-rich urban areas like Cambridge, the start point of stage 3 of the Tour de France.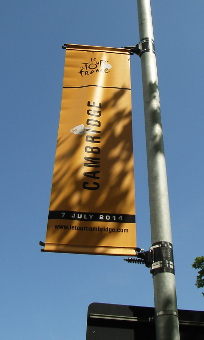 21 January 2014
We are represented on the British Standards Institution committee EPL/278 Intelligent transport systems. (We have three decades of expertise in standardisation).
31 January 2014
We have developed some proprietary IP for two-way building-to-vehicle and infrastructure-to-vehicle communication using LiFi for future use.
2 April 2014
Gave talk in Cambridge to Institute of Advanced Motorists on driverless cars.
28 May 2014
We are investigating the insurance conditions for driverless cars without steering wheels to come to Britain.
We are also looking into possible disputes resolution frameworks if one organisation like Google or a taxi firm offers to assume liability so that passengers have similar rights to people travelling on public service vehicles. We possess expertise in arbitration.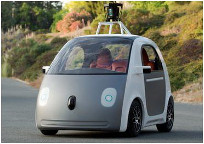 5 June 2014
Gave talk in London to the British Standards Society on driverless cars and the smart city.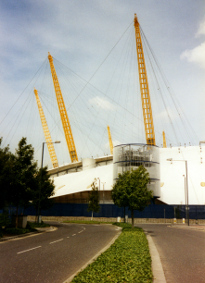 Other speakers included a representative of Digital Enterprise Greenwich.
1 September 2014
We are advising a UK local government authority on its options for adaptations to accomodate autonomous vehicles.
16 September 2015
We are represented on an Internet of Things panel for our conceptualisation skills in intergrating future vehicle types with buildings.
---
For our continuing commentary on autonomous mobility issues follow the updates to:



CAMBRIDGE AUTONOMOUS MOBILITY

(Scroll to bottom for latest entries)


Summary by Andre Beaumont

2015

The Cambridge Autonomous Mobility consultancy provides one of Europe's most influential commentary on driverless cars, world-leading conceptualisation of the integration of autonomous vehicles into the built environment and with the internet of things and a leading node of knowledge within the UK on driverless cars.

The consultancy's interest focuses on two aspects:


* The vehicles themselves and bringing them to the world's roads as a practical reality as soon as possible.

Our core skills include understanding all the connections that have to be drawn to get autonomous vehicle projects on the road and the practicalities of getting them accepted;

* How the built environment - the roads, streetscapes, street furniture, buildings and urban environment - will have to be modified to accommodate the new technologies of driverless cars.

We provide conceptualisation, negotiation and strategic programme management for all autonomous vehicle projects, commercial or sponsored by government.


Autonomous vehicles is a new area for many so please do feel free to contact me directly:
Andre Beaumont
GlobalAR@aol.com
+44(0) 744 3500 561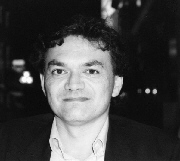 ___________________________________________________________________________

March 2016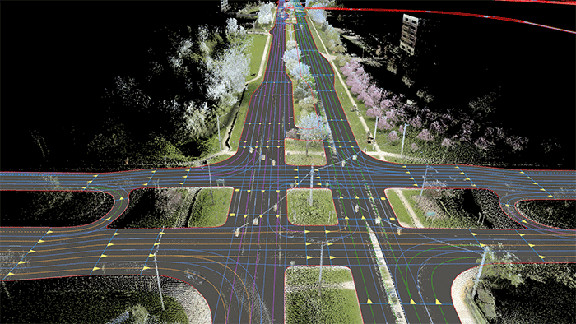 HERE map

To win the race to launch a market competitive driverless car it will not be enough to be able to write countless algorithms. You must also have access to high grade maps. The HERE map shown above is accurate to about 20cms - better than GPS and much better than a map that will show on a satnav or viewable on Google maps. The first driverless car fleets will be urban and the routes they use will be urban and will have to be mapped before in great detail.

Most urban environments, though, do not have the luxury of the wide open spaces and safe runoff areas shown in this map. They will be hemmed in by buildings and many of the distances measured by onboard sensors will be to buildings. Breaks in GPS coverage will occur in urban canyons caused by tall buildings. A low latency radio communication system will be necessary to help autonomous and connected vehicles 'see round corners'. Vehicles will also have to talk to buildings.

So this consultancy will increasingly now concentrate on the interface between buildings and autonomous vehicles where our knowledge base is strongest.

70% of the U.K. has been mapped by aerial Lidar to a resolution of 1m x 1m but that would not be good enough for a fully autonomous vehicle. It would need to know to within 1cm where the raised curb of a pavement is in an urban environment as it is likely to curve. So the resolution of mapping may need to be varied depending on location and this obligatorily requires the use of vehicle-borne Lidar (or radar) and other sensors. The periodicity of the scans will also have to be different - not every two years as might be the case aerially but in real time, for instance to accommodate new enclosures around building sites, in which we have a particular interest.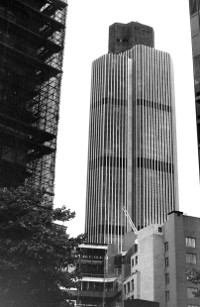 1987 near the Lloyds' Building.
How many times in 30 years will
the roadscape here have changed
due to building works enclosures
by 2017?


___________________________________________________________________________

May 2016

One of our aims is to maintain an overview knowledge base at least as good as anyone else in Britain can compactly hold in relation to autonomous vehicles - i.e. not spread over a diverse organisation.

Our related group of consultancies will be applying this to the built environment in 2016.

As H M Government's Digital Built Britain Level 3 Building Information Modelling - Strategic Plan (February 2015) says:

The Digital Economy sets to place the UK at the forefront of High Performance Computing, Security and Algorithms. The complex world of the Built Environment is well suited to development using these technologies.

The group of consultancies' previous clients include:
European Commission
Department of Work and Pensions
English Heritage
BBC
London Underground
University of Cambridge
Medical Research Council
John Lewis Partnership
University of Glasgow

We now offer a full Government Soft Landings service, with provision of a GSL Champion if required, including for projects anticipating future semi-autonomous vehicles accessing or docking on public land (e.g. rail station projects anticipating autonomous valet parking or the docking of EZ10 shuttles).

We have capacity for only two projects - so you will need to come to us - but you will get the leading authorities in the UK private sector on Government Soft Landings and autonomous vehicles.


___________________________________________________________________________

January 2017

As we enter 2017 this NVIDIA car is the state of the art for a purely experimental driverless car because of its use of advanced mapping, deep learning, sophisticated object recognition and the cloud. (It is a bit behind the leading edge in a few other areas). Limited hype, considerable technical achievement.


___________________________________________________________________________

September 2017


I would say there are only three occupations that can regularly see a full picture and deliver:

Entrepreneurs who say this will happen and go relentlessly forward till it happens, not brooking obstacles and finding the resources, frequently not their own, to make it happen;

Politicians who say I will make this happen and use political means to make it happen;

Architects whose long professional training makes them respond if it is technically possible to design this I will never accept that this project, however difficult, cannot be designed - but they always have a contractor to execute.

In some very attenuated fashion, and out of the limelight, I have probably been all three and so am perhaps a little biased. Also, clearly not all entrepreneurs, politicians and architects have the personality makeup to deliver.

With the driverless car industry, if one properly exists, the initial driving force in America has been Silicon Valley entrepreneurs, who do see a full picture but have employed engineers, software specialists and others to run the projects who do not quite. They are, certainly, chalk and cheese to the automotive engineers. It might have been better if they had appointed other entrepreneurs to run the projects.

In the U.K. I tend to take the position of the architect. If there is something I can do better than any other participant on the U.K. autonomous vehicle scene it is to have a truly full overview of what should be done. If someone has a project, in other words a contractor in my parlance who can execute, then I can help with designing the project, for a fee. What I will not do is raise the resources like an entrepreneur or even tender.

If one says it is the commercial reality in the U.K. that you have to tender for government funds to get an autonomous vehicle project going, that may have been true but unlike many I may just have an alternative. Given time, maybe I will make it happen. Politics is less hard work. Certainly I should like to see a successful autonomous vehicle project in the U.K. and my own participation, by way of contributing knowledge, is not essential.

This must surely be coming to something and it is. By mid-2015 it was clear to me that using newly emergent deep learning artificial intelligence in the mix of technologies was the only way fully autonomous navigation had a hope of becoming a reality. The U.K. pursued projects, one vehicle oriented, one robotics and elementary mapping oriented and another possibly people oriented but none came close to having a viable mix of technologies.

A corrective overview could have been provide by this consultancy but in the U.K. there is a tendency for people to stand on their prerogatives, assume no one could know more than their own organisation because it is the selected one, and not go to the right people and it is a growing reason why less is being achieved. So two and a half years of development time were squandered. It has not been disastrous as other autonomous vehicle projects elsewhere have faced difficulties but it could have been.

Now there is an entrepreneur-led project within 200 yards of this consultancy and it is very strongly artificial intelligence focussed, almost exclusively so, and privately funded.

We are returning to interesting times in the autonomous vehicle space in the U.K.