Read our Copyright Notice click here
For publication dates click here

Guadalupe - video clip (downloadable, 15Mb, 25 seconds)



IT'S THE TIME OF DOGS A' BARKING

Reviewed by ANDRE BEAUMONT


Another singer sets a high bar for a song like On a Bus to St. Cloud or Snowin' on Raton and then along comes Gretchen Peters to give them a good run for their money. She has a voice suited to recorded music.

She is very memorable for the songs she wrote for herself.

The first of her songs I ever heard was The Aviator's Song, an enchanting song with enigmatic lyrics. You are left with a slight unease about the ending.

Then if you go on to hear her award winning album, Blackbirds, especially the song Black Ribbons which has a similar twist in the tail, you become convinced that the twist is truly sinister. She is the mistress of ambiguous lyrics so you can never be fully certain without her offering an explanation that puts them in context (which she did before performing another song, Lowlands, for the concert reviewed here).

When a few weeks ago I heard Wichita from her new album, Dancing With the Beast, which I soon then listened to, I knew I had to make another trip to The Apex in Bury St Edmunds to hear her live.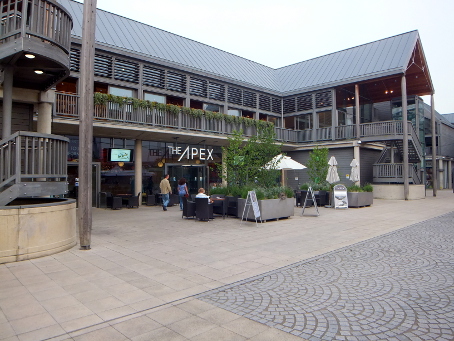 The Apex with its deceptively simple exterior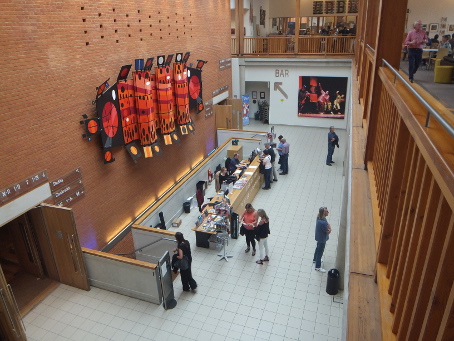 Excellent natural light in the foyer

Wichita continues in the richly sinister vein of Blackbirds. She has specialised in lyrics about the consciousness of the younger, female family member with silent, conflicted, previously unexpressed thoughts - vengeful or murderous. She is also, patently, a very nice woman for someone with such a vivid imagination. Wichita is amusing.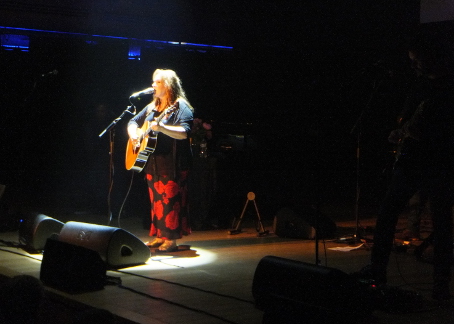 Gretchen Peters

At most, I have heard half of her oeuvre (so I am the least of all your pilgrims) but the suitability of her better known songs to recorded music meant that I knew all her songs in the hour and three-quarters she was on stage, bar one.

She has performed at The Apex before. Kim Richey, who opens for her, said she loves singing there and Peters that she adored it.

All, or nearly all, of the songs on her new album were performed. Each is taken from the point of view of a different woman expressing inner thoughts. Arguing with Ghosts started the show and most grow on you very quickly. Lowlands is memorable and 'kerosene', a frequent word in her lyrics, is here being sold ambiguously as if it were hope.

The songs I wanted to hear from other albums were there, too - The Matador, On a Bus to St. Cloud and, not least, Guadalupe.

To which from Blackbirds were added its title song and When All You Got Is a Hammer .... so from that album I only missed two songs I would have liked to hear live: Black Ribbons and The House on Auburn Street, which has its dogs and its ambiguous, unexplained lyrics.

The quality of the venue's acoustic is not in doubt. If you brought a dog in to bark you would hear all the nuance of its voice. So if I had any quibble it was how amplification fitted round her performance.

She dispelled that at the end. Coming to the edge of the stage, without backing musicians or amplification and with only her guitar, she sang Love That Makes a Cup of Tea, almost softly, to a full house and it was pin sharp.