---
For publication dates click here
Read our Copyright Notice click here



THE PLACE WHERE THERE IS NO-ONE

Reviewed by GUENTER KLATT


"The place where there is no-one" ...that, in one of the indigenous languages, is the meaning of the word "Namib", the desert after which Namibia was named. One reason for that conspicuous absence of people could be the fact that quite a few Namibians have moved to Cape Town. Among them also three colleagues of mine, who had repeatedly urged me to go and see this country of exceptional natural beauty with my own eyes. And last May, when a friend of mine was over for a visit, I found the opportunity to do so.

I've known my travel companion, Gerd Fritzsche, for 12 years, since our student days at Heidelberg, where Gerd still lives. He is a passionate skydiver and bungee jumper, had been to Africa twice before, and works for a German chemical company. And then there is also Charlie, who is four years old, white, and has wheels. Charlie is my Chico, and was supposed to carry us and our baggage for 11 days over 6000 km of mostly gravel road.

Since my time is too short to go into details, I will have to restrict myself to a few highlights. First of all, we were lucky to go to Namibia shortly after some heavy rainfall early last year. This meant that we did not find a barren desert, but a blossoming grassland. And it also provided us with the first exciting moment of our trip: it was here, on our way to Luderitz, when we saw what looked like smoke on the horizon. Getting closer, we were amazed to see the smoke dissolving into what must have been millions of locusts. We stopped and looked on for half an hour as the swarm was flying past, devouring everything green in its path. A shame we didn't have a video camera with us; this would have been the right opportunity to use it.

Luderitz itself is quite a sleepy place compared to touristy Swakopmund further up the coast. It's worth a visit because of the ghost town of Kollmannskoppe, a remnant from the diamond rush a century ago. Right in the middle of the desert the diggers built a village with stores, school, hospital and even a skittle alley, which was abandoned in the 1920s. Today Nature is busy reclaiming the houses, many of which are half-filled with sand, except for a few buildings restored for the tourists. De Beers has built a museum to commemorate the history of diamond mining in Namibia. There are guided tours twice a day, but if you're after the best light, get a special permit and go there at sunrise. Access to the whole area south of Luderitz, from Kollmannskoppe right down to the border, is still restricted, as diamonds are still being mined there today.

On the fifth day of our trip we reached one of Namibia's best known tourist destinations, the lake and dunes of Sossusvlei. This is desert as people commonly imagine it; the sand is quite special, very red because of its high iron content, which gives it the characteristic glow, especially at sunrise & sunset. And right in the middle of this inhospitable environment there is a lake, surrounded by lush green shrubs, which may dry out if it hasn't rained for a while. For maximum viewing pleasure check with the Namibian Tourist Office if there is water. If you're a keen photographer, it's also essential to make a booking at the camp site (called Sesriem) or the Movenpick Lodge. Only people staying at these places may enter the Nature Reserve at 4:30 in the morning, which gives you just enough time to reach the lake at sunrise for the most spectacular pictures. If you don't come by 4 x 4, you need to hire one, since the tar road is still under construction. If you have a few hundred $ to spend, you may even go on a balloon safari.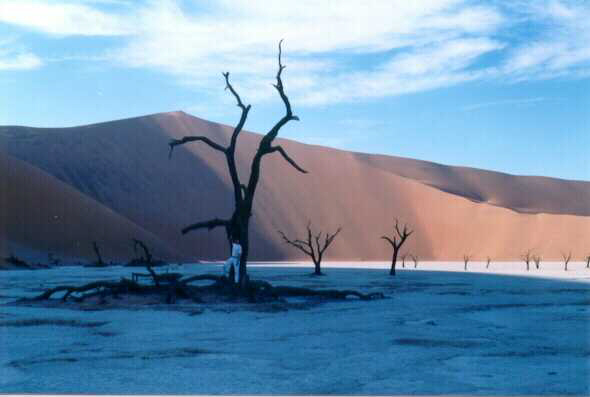 I have a switch that was once was an essential part of Charly. It's now here because we drove along the Khomas-Hochlandstrasse, from Swakopmund to Windhuk. My advice to you: don't try this in a 1.3 Chico! When planning the trip whe hadn't bargained for the second steepest pass in Namibia, which seemed too tough for Charly to climb at first. Then Gerd got out, and so did the luggage. Finally I made it to the top in 1st gear, kicking the accelerator down to the max. But our joy was short-lived when we noticed the puddle of water under the car. Turns out that the cooling water had overheated and the pressure had blown off and broken the switch, which meant we were in trouble. With still 200 km left to Windhuk, imagine yourselves in the middle of nowhere without a functioning car!

Luck has it that a gentleman from Garborone passed by a few minutes later in his 4 x 4, offering to help us. At first we tried his superglue, which must have been somewhat aged, since it failed to glue the switch. But this guy was amazing; he had some wire as well; we could force the switch on its place, meaning that the coolant container was sort of shut, although not tight. We thanked the friendly fellow and drove on. Every 20k or so the red temperature warning light was flashing, forcing us to stop and refill. Fortunately, we had 10 litres of spare water as well as several bottles of mineral water in the car! And after a while we noticed a wind pump with water basin not far from the road, which enabled us to top up what we'd lost. We arrived in Windhuk long after nightfall, exhausted but overjoyed that we didn't have to spend the night in the bush. The very next day, while we were taking in the sights of the capital, Charly was operated upon by professionals to restore him to full health. In conclusion, it can only be hoped that more of you, if you've not already been there, one day make the trip across the Orange River. Namibia then may no longer live up to its name as "place where there is no-one", but swarms of tourists - not locusts - are just what its natural wonders deserve and the local economy needs. And I wish that you will be able to share the experience with a friend like Gerd. In case you wonder what happened to Charly -- we are still an item, and he has never let me down since.