Read our Copyright Notice click here
For publication dates click here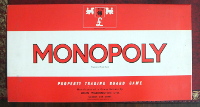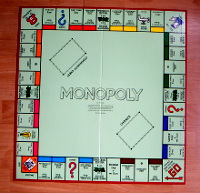 NEWMARKET 350 MONOPOLY

Reviewed by ANDRE BEAUMONT


Newmarket 350 Monopoly runs to a limited edition of 2016 copies as the year 2016 marked the 350th anniversary of modern racing having been started on Newmarket Heath by Charles II.

Commissioned by the Jockey Club, it was produced in two batches, the first being a gift from the Club to the Palace House museum, the second being ordered by the museum, in whose shop the game sells.

The rules of the game follow those of modern classic Monopoly but the properties players acquire are in Newmarket rather than in London as was the case in the Waddingtons original. Instead of houses and hotels to place on properties there are horses and stallions.

One curiosity is that while Newmarket Clock Tower, a very familiar landmark in Newmarket, replaces Chance as found in the classic game, Charles II Statue replaces Community Chest and though the designers of the edition must have been told of its imminent arrival, they appear not to have known its location (or been told not to disclose this fact) as no physical location is given for it in the game. In fact, the Charles II Statue was first unveiled on the Rowley Mile Racecourse just after Easter 2017. This anomaly, though, is likely to add to the edition's long term value for collectors.

One of the Newmarket Clock Tower cards is amusingly: The British Horseracing Authority stewards have found you guilty of careless riding. Go to jail. Do not pass go. Do not collect 200. Sports regulatory authorities have always been harsher on professionals than real magistrates.

A Charles II Statue card is: You win a Discover Newmarket tour of the National Stud. Collect 150. I've won one of these in real life though I'd been before.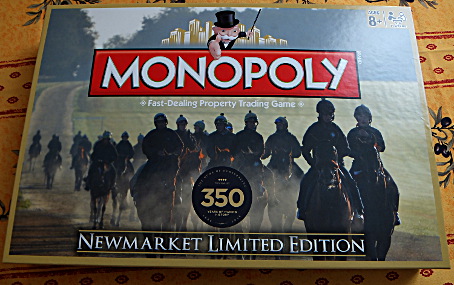 When I first played Monopoly at nine years old, when there were only London and Atlantic City based versions, Oxford Street was my local high street and the only places I had not visited were four on the bottom of the board - Old Kent Road, Whitechapel, The Angel Islington and Pentonville Road. Expensive places to live in now, one or two of these places were sufficiently edgy to be considered a little dangerous to go to then.

I can well imagine, however, that in some far flung part of the Commonwealth, where the game was most likely to have been exported (I encountered no one in France and Germany who had the game), the London board could have been a thing of a little mystery on first acquaintance. Many, nonetheless, would surely have heard of, or been to, some of the London streets and landmarks so there would have been familiarity.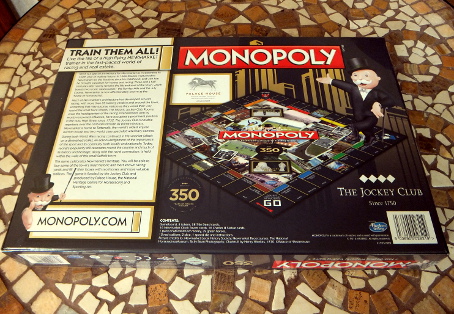 You really have to be a Newmarket aficionado, though, to know all the properties on this board and even more of one to having been in all of them as most are training establishments. It must be great fun, though, if you work in one and are playing there to land on it and buy it. One up on visiting Leicester Square.

Playing London Monopoly always has a fantastical quality. The only thing in real life I've done similar is help sell air rights in the City of London - which meant, literally, someone making money out of thin air. Real monopoly in Newmarket happens differently - you try to own all the best stallions.