---
For publication dates click here
Read our Copyright Notice click here
Board game:



GRANDMASTER CHESS ULTRA

Reviewed by ANDRE BEAUMONT


Grandmaster Chess Ultra is old software these days, able to run on all versions of Windows. This no doubt is one of its attractions to publishers Softkey as it reaches the widest possible potential chess playing audience. It shows its age in the interface, with no full screen capability when running on Windows 98 and a poor range of colours used in the choice of chessboards, making it sometimes difficult to distinguish the black pieces against them.

Nevertheless, it is good value because of its playing abilities. At 11 megabytes fully loaded, little of it used for graphics, it packs an openings book of 4,500 variations that help the Master+ setting beat all but the best human players, although the computer can be forced into apparent errors by making it play at once rather giving it the time to think out its move. Unfortunately, the player does not know which openings are in the book nor can he call up individual openings, other than any of his own which he has saved.

The mutimedia lessons are useful and concise, the quality of the play educational.

There is basic 3D rendering if required, many skill levels, strength ratings, and the ability for the programme to learn from its mistakes. Network and modem-to-modem play is possible.

It is best to save games regularly as even the fastest Pentium III processors can crash when the openings book is switched off and the algorithms are trying to calculate unusual situations. It could be infuriating for a crash to come midway through a game.

Grandmaster Chess Ultra is much cheaper than a chess set, unlike more modern software, and as such is a bargain. Don't expect to beat it easily though. However you set the parameters you cannot force it to make deliberate errors, only hamstring it a little. Old software plays to win!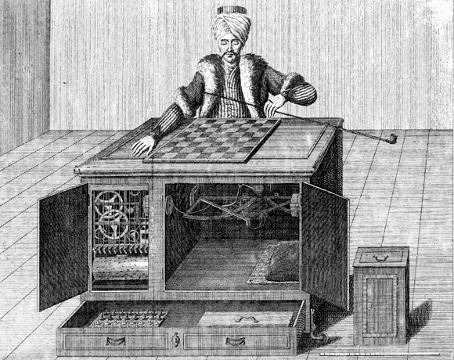 The automaton which played Napoleon at chess, concealing an operator. At the minimum he was amused. Josephine's son later bought the machine whilst viceroy in Italy.