Read our Copyright Notice click here
For publication dates click here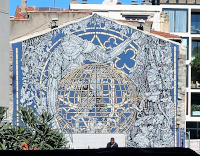 Ephemeral wall art by Monkeybird, Coul'Heures d'Automne 2022, Antibes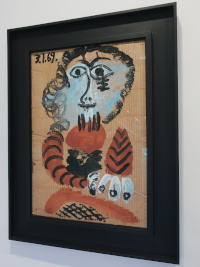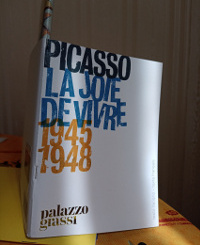 The permanent collection largely dates from 1946 and would be characterised differently



PICASSO 1969-1972 LA FIN DU DÉBUT

Reviewed by ANDRE BEAUMONT


2023 is the fiftieth anniversary of Picasso's death in 1973. The Picasso Museum in Antibes has put on an exhibition of 41 works from the years 1969 to 1972, which were created in Mougins where he had his home and studio, and which is nearby.

The works come from the Picasso museums in Paris and Malaga and from private and family collections.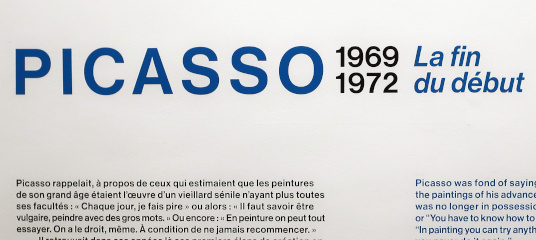 Wall text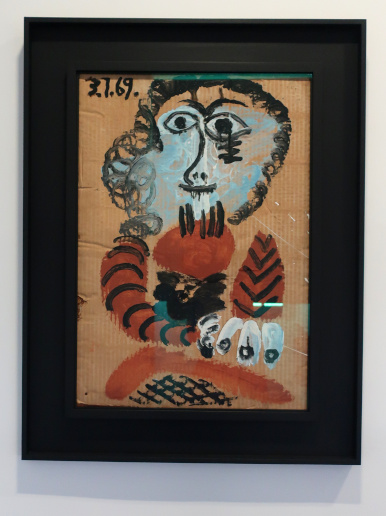 Head of a man, 1969, oil on corrugated cardboard

Though they may look like some of the less finished works in the show, I took particular delight in seeing the works where he had not been precious about materials, especially the painting on cardboard above, ever so simple but in vibrant condition.

We have to accept that the majority of visual art in the world will be ephemeral and so the preservation of unexpected fragments, not expected to survive, has its own allure.

After all, quite a few of the paintings in the permanent collection, which date from 1946 when Picasso was resident in Chateau Grimaldi, the home of the museum, are on asbestos cement.

Perhaps large canvasses were hard to come by immediately post-war and Picasso, who could paint and draw on anything, simply got on with it.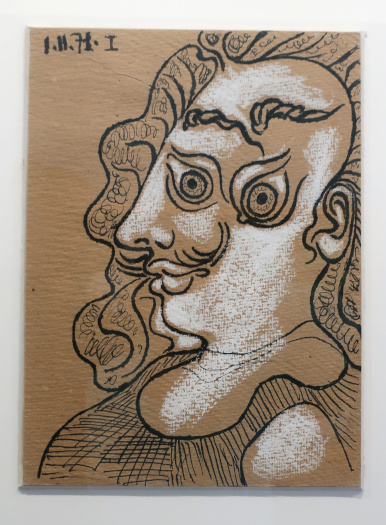 These are the four other works, photographed through glass, on cardboard or mounted on cardboard.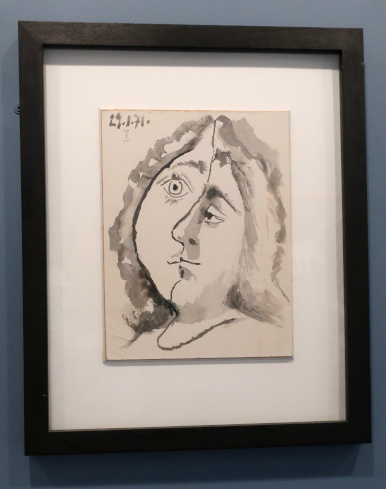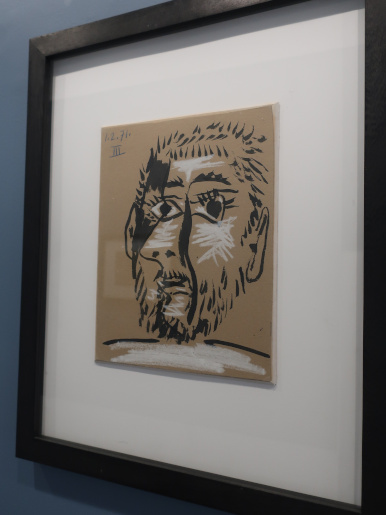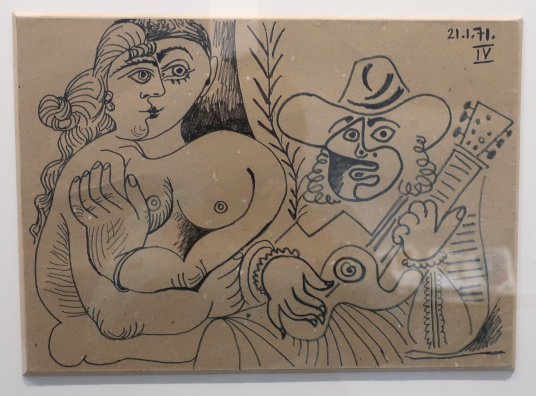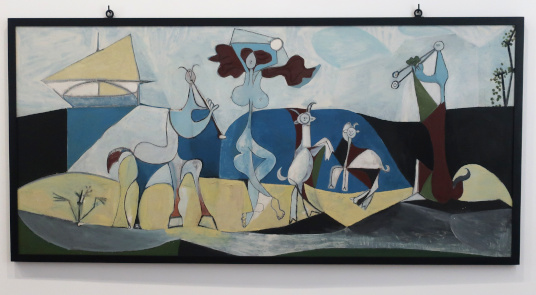 La joie de vivre, 1946, on asbestos cement (in the permanent collection)

Back to oil on canvas, I like in particular the paintings that continue experimentation late into life.

Unfinished some may look but they are studies in colour.

He is an artist who is going to be continually reassessed because of the prolific stock of his output.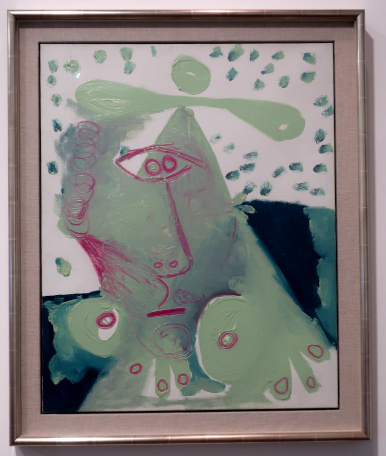 Figure, 1971, (with two-dimensional speckles)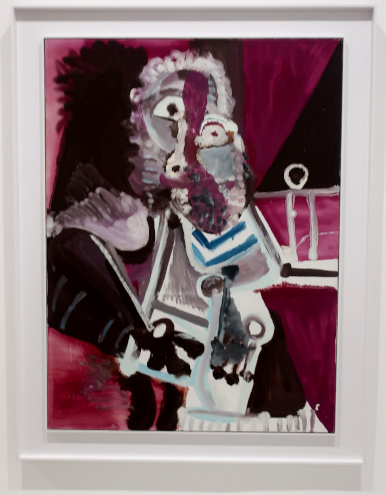 Seated man (Mardi Gras), 1969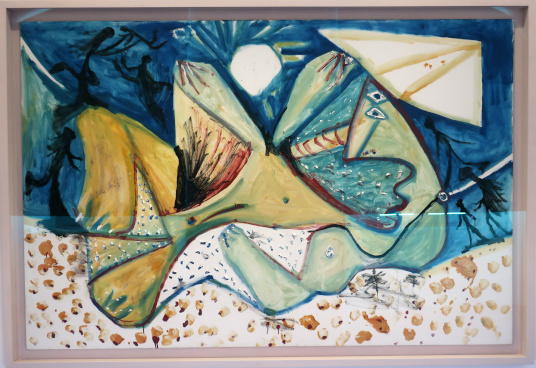 Reclining woman, 1971, has some three-dimensional speckled application of paint

They are not necessarily the most sophisticated Picassos but they do portray some powerful emotions which are harder to read in the more mannered work. As he says, he is painting with swear words.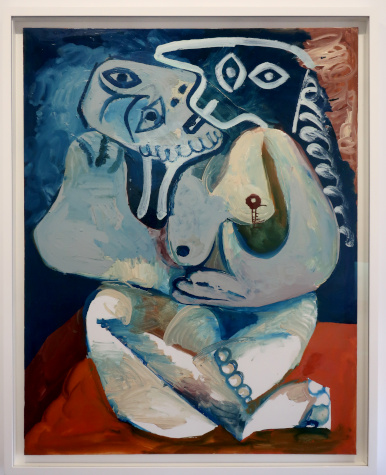 The embrace, 1971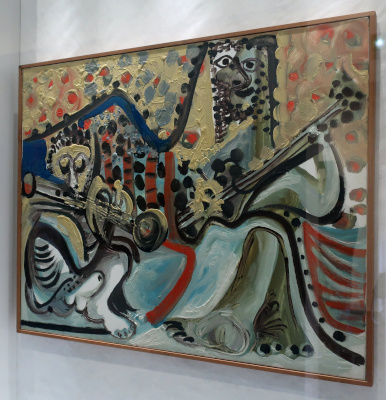 The musicians, 1971

This is a singular painting for using both two-dimensional and three-dimensional paint application with a diagonal separation.

Are these male equivalents of his 1946 sirens? God and satyr? The allure and the devil? Both the emotional pull and the smoke and mirrors of making music? A stronger expression of Picasso's subconscious?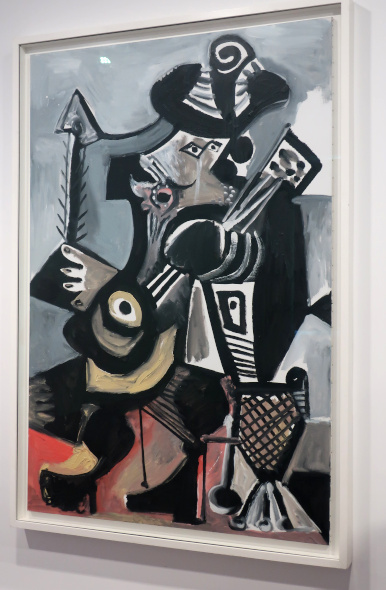 Musician, 1971

A musician grown complacent under the artist's gaze?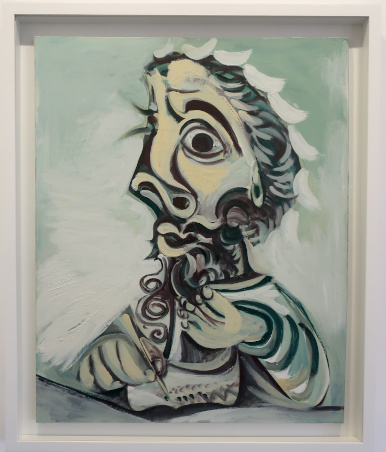 Head of a writer, 1971

It is far from an exhibition lacking bright and colourful portraiture. It is just that there is a raw undertone in some of the more powerful paintings.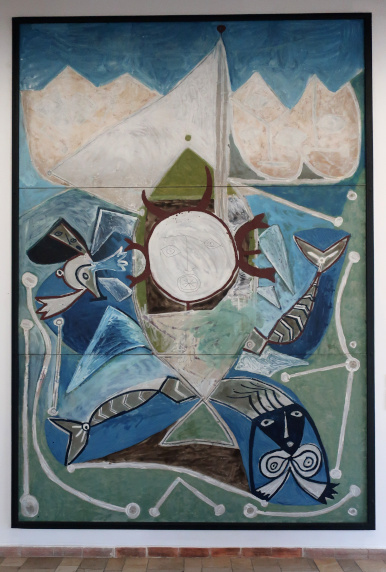 Ulysses and the sirens, 1946 (in the permanent collection)