---
For publication dates click here
Read our Copyright Notice click here
---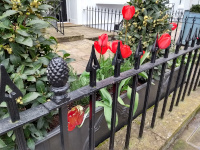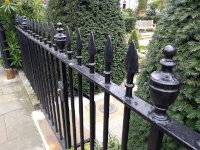 A bad design is a bad design and just because a bureaucratic authority has invested time or money in it does not mean it should go ahead but a good design is a good one and railings used to be a cheap way to do a job yet allow people both within and without to see the space. If we do not continually oppose bad urban space we will get bad.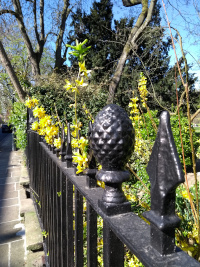 *****
As a journalistic outfit we will, we rather think, do something about it depending on what happens. It fits with the time.
After, and maybe during, Covid-19 the era when bureaucrats could hide behind elected representatives who have not the time and, in many cases, the intellectual bandwidth to have dreamt up what is done in their name, is coming to an end. By chipping away at democracy, bureaucrats have exposed a new, unexpected flank to accountability.
Forensic examination of what they do, especially their omissions, becomes opened-sourced when what they do is patently not widely beneficial.
Their defensive guff falls into dead space.
*****
There will be more change this year than in a decade.
We cannot accurately predict the winners and losers. Wimbledon, which had pandemic insurance, may be a winner (because you can sell television rights for next year with a great deal of planning and smaller, non-grass tournaments will not get television coverage), private education a loser.
Property holding companies are not starting new office developments.
Trainers are getting fewer horses to train, more boxes not withstanding (of which there are a surplus and as historic yards go empty).
Parents are asking for fee discounts for next year (as they will not be getting what they expected. However, you could bubble boarding schools with no day pupils).
Airports need new business plans.
Business will not automatically return to our world class loci if they are not shown to be transparently fair places to do business. Bureaucrats should not necessarily humour yesterday's big noises at the expense of their own soon to be much more public reputations.
*****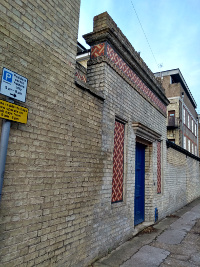 Fortunately the wall, one of the most elegant in the city, is currently restraining potential Covid-19 transmission to the community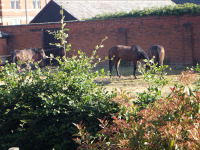 Where is the section through the site and neighbouring street showing the higher datum of the paddock?
Urban paddock, as a good conservation officer will say, is urban paddock, and without a legislative change all must remain, whether it has been Tarmaced to look different or not.
People are fed up of incurring substantial financial losses not because their view is blocked but because their light is.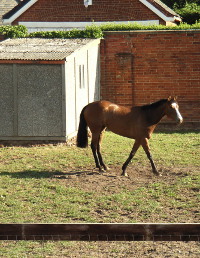 2011
What about a trainer who actually tries to fill the yard? Since when has there been insufficient accommodation on site? This yard has been viable for a long time and does not use its existing capacity, least of all for people.
*****
Now here is an idea as legislation is in the offing.
A clause inserted in the Bill requiring any party filing a statement on behalf of a property owner, to sign a declaration that the rights of light of neighbouring properties have been fully considered and not infringed. This would make the agent liable directly as the current first recourse is to sue the property owner or those who have breached statutory duty.
*****
On the same tack, parties converting office buildings without requiring planning permission to flats should sign declarations that they have not infringed neighbours rights of light and that they have provided sufficient natural light to flats created within the buildings.
If this round of legislation does not deliver another should be proposed.