Read our Copyright Notice click here
For publication dates click here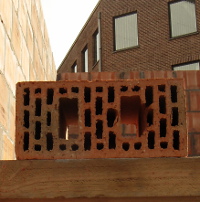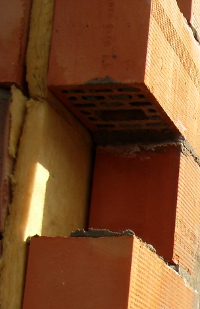 Air pocket bricks, above, provide most of the solution in another jurisdiction with similar weather.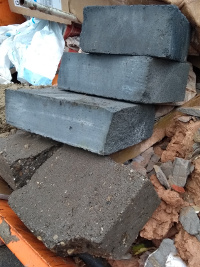 Earlier generations of blocks, like the upper ones, used up waste industrial products, like fly ash, making them less dense with improved insulation values - incombustible British recycling.
Relying today on flame and oxygen not to get to embedded plastic and foam insulation is regressive.
It cannot now be the way going forward.
*****
Evidence at the Grenfell inquiry in February 2022 appears to confirm that insulation containing plastic or foam was not permitted for buildings of any height by the building regulations in 2002 and before. There is no safe case for its continued use in the modification of buildings of less than 11 metres height any more than for taller ones.
If the U.K. wishes to protect any diplomatic gains of its net zero policy it cannot be at the expense of millions of homes in the country.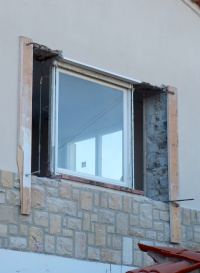 In a third jurisdiction, the pictured house, built about 20 years ago, uses solid blockwork walls and has always had space and water heating provided by electricity that is over 75% nuclear sourced.
Were commercial pressure ever to result in regulatory capture to the extent that plastic and foam insulation became the preferred choice, people would not be so supine as to install it.
Both the heating method and the higher temperatures obviate the need.
In Britain, we could get to 75% electricity from renewables and given a proportion of carbon emissions will always come from homes, and it is colder, and there are 65 million being housed, the current 14% of total emissions from domestic buildings is quite good, especially as we have exported much manufacturing elsewhere bumping up the percentage attributable to housing.
I once commissioned an energy rating along the lines prescribed by government. Grandiose results came in - if you changed 4 lightbulbs and did something relating to the boiler, the amount that could be saved annually turned out to be 165% of the actual annual dual fuel bill and over 150% of any annual dual fuel bill received in the preceding decade!
This type of assessment is also required to sell a property. It should be scrapped as another piece of unneccessary legislation.
Less government, which so many have been calling for for three decades, does not mean selling everything, like the Building Research Establishment, off into the private sector then creating work for it, paid for by the building owner or citizen, but less policy originating from the civil service in the first place.
It cannot ensure it is essential by serving as the stooge of business or, worse, particular businesses. The long and baleful influence of Jeremy Heywood left it in a real mess and with multiple wrong values.
*****
Look at the footage of buildings destroyed by war in Ukraine and most are suffering blast damage.
The proportion also showing blackening indicating raging fire is not so high.
It could have been different. There is no sign, in the fabric of buildings exposed, of plastic or foam insulation.
Embedding it would have provided no protection.
Can we have politicians of the maturity to understand in advance that the Treasury will not be spending £28 billion on this, to virtue signal or otherwise.

*****

The United States reacted very firmly when it was discovered in 1975 that foam used in a firestop at the Browns Ferry Nuclear Plant had contributed to a fire.
There were wide ranging changes that included the use of foam in construction. Polyurethane as an insulator has inherent risks even treated with fire retardents. Formulations may be different but we must not regress to before that time.
Boris Johnson knows how to write a speech. Words are not in one by accident.
His departure speech contains the line:
great solid masonry on which we will continue to build together.
In the scheme of things we have not long to wait now for the full findings and recommendations of the Grenfell Tower inquiry.
Whatever these may be they can be acted on.


---
Alternatives Needed



THE PROBLEM WITH INSULATION

Reviewed by ANDRE BEAUMONT


As the new secretary of state has observed, cladding at the Grenfell tower burned as if it were filled with petrol.

It is the insulation within the cladding that burned most fiercely.

The government will now bring forward solutions for residential blocks with similar defective cladding at both in excess of 18 metres and 11 metres, funded in two different ways.

It is now time for the 'stay put' policy for evacution of residential blocks of less than 11 metres, or effectively 6 habitable storeys or fewer, in the case of fire, to be rescinded in favour of fire drills and twice yearly fire evacuation information being supplied in paper form to all residences within a block. Fire drills used to be the norm.

The main danger to life is in residences below 11 metres, due to their preponderance and to the building materials being foisted upon this category of residence, principally at the time of renovation and, sometimes, if planners and building control are not diligent enough, at new build.

Some architects with experience of specifying materials before 2003 have been concerned at the way the wider building regulations regime has prevented them specifying the most energy efficient and fire resistant materials.

The energy performance rating regime has been a licence for lesser qualified or unqualified consultants to question their specification of more expensive materials ahead of those containing plastics or foam.

Some lay commentators ask why Britain has not got buildings with the energy performance of Scandinavian buildings.

One answer relates to fire performance.

Brick and blockwork does not burn. Timber does burn but often at a predictable charring rate that gives you time to escape.

Steel will eventually buckle, losing structural strength, which is why when it is used structurally it is often encased in concrete.

You should not quibble about the carbon cost of Portland cement when it is used to save you from fire.

Plastics and foam can go up like kerosene, only protected by what encases them.

Since the Great Fire of London, Britain moved away from timber construction for walls to masonry, these days predominantly brick and blockwork.

It also spaced buildings further apart from one another to stop spread of flame and to increase natural light to dwellings, allowing longer periods without the use of artificial illumination. (If your neighbour builds something that blocks your natural light it is going to put up your energy bill).

In Scandinavia, timber is a plentiful resource and very many dwellings are built in it as the material of choice.

If you want to change the insulation in a timber house to something with slightly more performance, all you might, in theory, have to do is take down the inner timber panelling, put it in, and put the panelling back.

In Britain, you might typically have to take down the whole inner blockwork leaf, with the plaster and the finishes, to the get the insulation in for this retrofit job. You are half rebuilding your home.

If you put it on the room side of the blockwork then any DIY-prone resident could damage it and you are reducing your living space.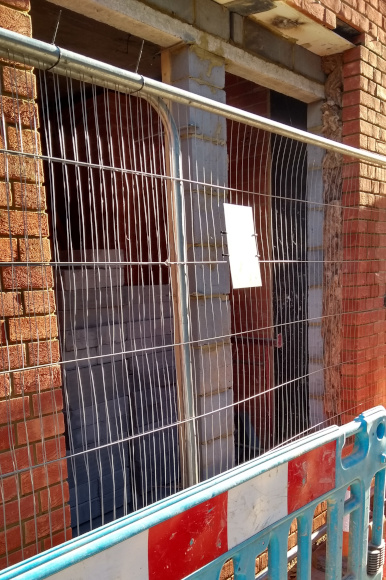 If you are going to fill the cavity - easy enough if you are building from new and hard if not - then mineral wool, as above, is a good choice as it is not flammable.

(I would not but feel free to disagree. I would leave the cavity empty to let the dwelling breathe better and increase the depth of the blockwork, adding some structural strength, and take the reduction in living space on the chin. Following Grenfell, I would at least question putting insulation on the external face.)

Truth be told, for the great majority of existing dwellings, the whole extra wall insulation routine is unnecessary.

In recently built homes, people already mostly have small rooms and no internal space to sacrifice. For solid masonry Georgian and Victorian houses, it is unnecessarily destructive of the design ethos if the wall is already more than one brick thick, and messes up the heat sink capacity of the walls that allows you to switch off the heating.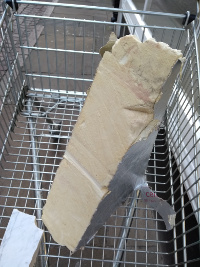 On 10 December 2021, I was astonished to walk by a piece of composite insulation dumped in a trolley with a piece of marble trim in a shopping street.

It looks bigger than it is and is probaby about 150mm wide.

It looks like it it has been gone through easily with a hand-held saw in a renovation job or a shop refit and will be post-2003 vintage, probably first installed in an earlier extension or refit because it was a way of meeting building regulations. It is clearly not blockwork and, if flammable beyond the sheathing, a risky thing to be in a home with someone wielding a DIY saw around.

Plastic or foam insulation within cavities may be sufficiently hidden to give a fire escape time interval; less so used on the inner side.

An overarching risk assessment may say leave existing materials in place but evacuation procedures must move to very prompt evacuation on residents' initiative at the sight of uncontrolled flame in any block of flats or dwelling under 11 metres or six or fewer habitable floors.

Permitted materials under 11 metres must be urgently reviewed and the building regulations made more cautious.

Residents in low rise are the most at risk in future because it is when commissioning refits or extensions that practitioners with limited years of training are likely to foist flammable materials on them.


*****

An oversized hot water cylinder, that acts as a heat reservoir, pre-heated by solar panels,supplemented by a small, conventional, central heating boiler and teamed with good loft insulation will deliver better energy efficiency for less capital cost that a combination boiler (which eliminates the cylinder) teamed with unnecessary, space consuming and potentially flammable wall insulation.

'Net zero' incorporates in two words two concepts for which governments have rightly become despised in recent years - fudge and targets.

How this cynical phraseology was meant to motivate more than a minority is hard to see.

Compared with possibly more pressing killer environmental problems like species reduction, particulate pollution and plastics pollution, net zero has a commercial feel to it.

I would rather see shipping switch from using sulphur rich bunker fuel to natural gas for propulsion than project forward too much about possibly unrealistic green hydrogen propulsion.

The immense amount of particulates produced by bunker fuel and diesel in particular is very possibly the biggest driver of species reduction, if it is not habitat loss.

Unquestionably, some industries have seen the climate change lobby as its useful idiot - depending on country, government will eliminate competition for you and promote your products in its stead.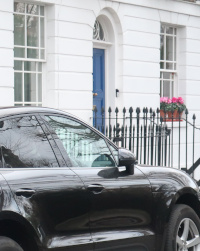 In Britain, have we not seen this already - the near elimination of the solar panel and loft insulation fitting trades in favour of the sale of more expensive boilers and potentially flammable wall insulation?

Has there been a diminution in the total energy consumption of the domestic housing stock after nearly two decades of this liberal (Blair, Brown, Cameron/Clegg) policy? Probably not.

(Wilson, Heath, Callaghan, Thatcher, Major, May and Johnson can be considered socialist or conservative in this distinction of policy inclination. Carbon counting has the feel of another liberal over-simplification like liberal intervention, free-for-all borrowing, balanced budgets and corporate domination and to that extent also feels like an elitist project).

Were architects being trained how to get better energy efficiency results than this in the nineties, even before cheap solar panels for buildings could ever be imagined? Yes.