Read our Copyright Notice click here
For publication dates click here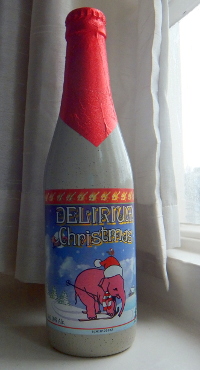 DELIRIUM CHRISTMAS

Reviewed by ANDRE BEAUMONT


Delirium Christmas comes in an attractive faux earthenware bottle.

It has 10% alcohol - which makes it stronger than Mosel riesling at around 8%, which you can drink all day with no ill effects if it is any good. If you happen to drink it on an empty stomach on Boxing Day, Delerium Christmas has excellent hoppiness with no unpleasant congeners like cheap port so there are no ill effects. Its bitterness goes excellently with neat Stilton, which you won't be getting usually in Belgium .... or the Mosel valley for that matter. Neither comes close to overwhelming the other so you can substitute it for port.

It has an orange-red colour and once poured produces a copious dark cream head. It has very vigorous carbonation which can come back up through the nose, which is intriguing but you get the flavour better.

As for actual nose there are numerous fruits but for myself I prefer not to describe beverages by their fruits as the comparisons do not produce exact matches on my nose - but everyone's nose and palate is different.

It is dry and bitter, and long in the mouth, and the alcohol is not aggressive on the mouth or the palate. It changes a bit with time in the glass but at both ends it has quality, with fizz at the front end and, as some of the still strong carbonation goes towards the end of the glass, more pronounced alcohol. It still leaves carbonation legs on the side of the glass towards the end - the equivalent of the alcohol legs for the Chablis I had for Christmas with guinea fowl. The last 2 centimetres of liquid in the bottle produces a 3 centimetre head after half an hour. You will run out of Stilton before you run out of fizz.

It has character in flavour at the top of the palate and is much better than most beers for Christmas.