Read our Copyright Notice click here
For publication dates click here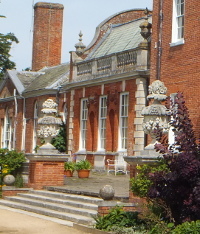 Architect Reginald Blomfield's addition of a music room, circa 1903, for Lord Rendel


HATCHLANDS

Reviewed by ANDRE BEAUMONT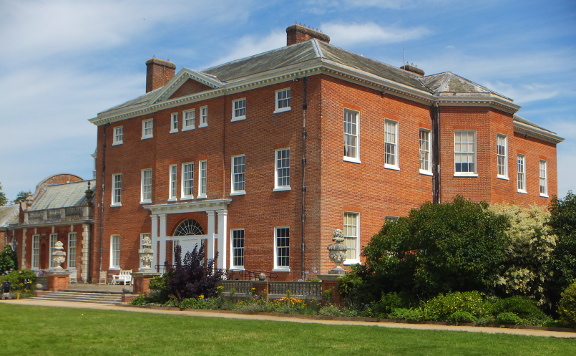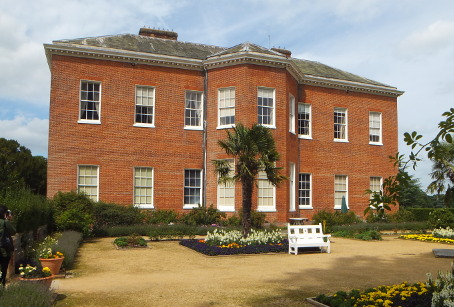 After his Grand Tour in Italy, Robert Adam's work on the interiors of Hatchlands, being rebuilt by another architect at the time, was one of his first commissions; the drawings in the Soane Museum are dated 1759. So Hatchlands has always been on the must visit list of any grand tour of his work.

The work here is usually cited as an embryonic pointer to his later work but it was not yet in the unique Neoclassical style he later fashioned which became synonymous with his name. (He, in fact, created two Neoclassical styles as he created the Etruscan style towards the end of his career).

The Library ceiling, in particular, shows an ability to fill large spaces with geometrically balanced ornament, ostensibly drawn from antique sources but increasingly of his own creation.

It is Adam's work that adds most renown to the house. Without it, fewer visitors from Horace Walpole onwards would have come to see it down the centuries.

It is not all that extensive, extending mainly to ceilings, fireplaces, some decoration and, it would appear, advice on proportions and layout. It was probably cut short by the early death of Admiral Edward Boscawen in 1761, who had commissioned the rebuilding. The Italianate influences are evident as are references to his patron's naval life.

There is romance in the story of the admiral and his wife Frances (known as Fanny) building, and living at, Hatchlands which was an added draw to me on my first visit hunting down Adam's work.

That visit, though, pre-dates the present tenant, Alec Cobbe, coming to Hatchlands in 1987 and so I was in for multiple surprises coming back in 2017. I can only conclude that the National Trust has been lucky to have him. He also has family connections to the early and subsequent history of Hatchlands.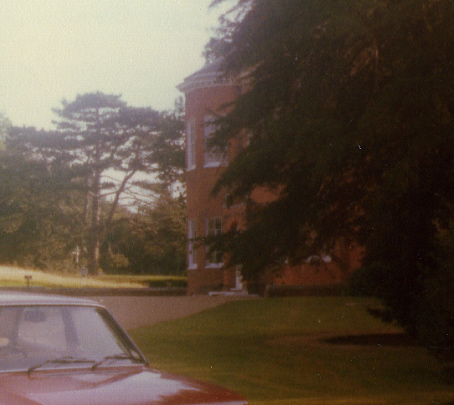 Hatchlands pre-1987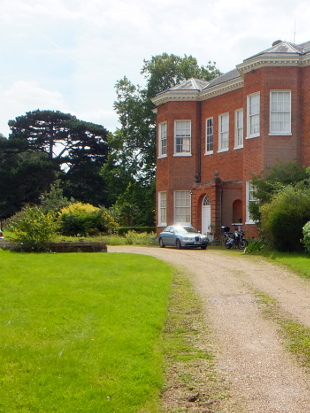 Much the same view in 2017

Little did I know that I ought to bring a keyboard player with me, for instance.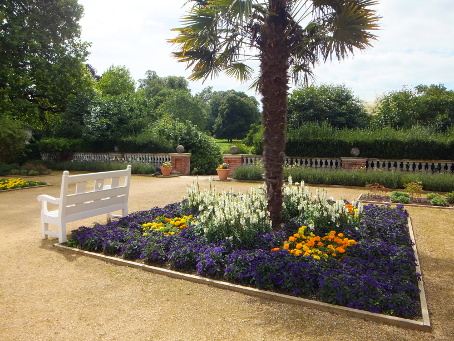 Contemporary parterre

When I visited before there was a lush and dense parterre, presumably still to the design of Gertrude Jekyll, and the bones of parkland modified by Humphry Repton.

The gardens are what I anticipated would change most, as a living entity is going to struggle to adhere to a design.

The parterre has now gone, replaced with another more formal. The box plants had succumbed to blight and cannot be replaced before a passage of time. The Repton bones are still to be discerned wearing tidier garb.

To the Adam work there have been minor decorative additions but not subtractions.

There are contemporary Cobbe arabesques, to an 18th century design, (and dado and a little ceiling detail) in the Dining Room, which ceased to be an Adam room during Lord Rendel's ownership, but which has excellent near cube proportions.

There are also Cobbe roundels, copies of work by Antonio Zucchi for Harewood, in the previously empty ceiling roundels of the Adam ceiling in the Library. (Adam would almost certainly have commissioned roundels if his involvement with the house had continued and Zucchi was a decorative painter he frequently later used).

This work by Alec Cobbe, also a painter and musician, is admirable; the skills to restore this period's work appear to be woefully short on the ground now let alone any to execute new 18th century style schemes on blank grounds.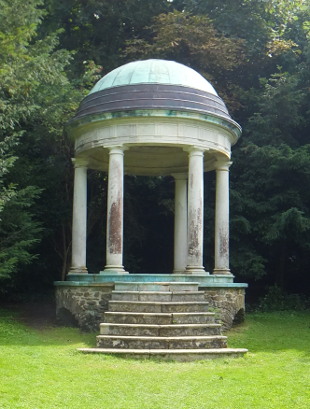 Hatchlands was given to the National Trust by Harry Stuart Goodhart-Rendel, a past president of the Royal Institute of British Architects. The 18th century temple arrived in 1953 from Busbridge Hall and has an inscription to his mother, Rose Ellen Goodhart, eldest daughter of Lord Rendel who bought Hatchlands in 1888.

The house has been furnished with part of the Cobbe collection of paintings, including Old Masters, densely hung, the Cobbe collection of portrait prints of musicians and the collection of keyboard instruments, which taken together has greatly increased what can be viewed at Hatchlands that is of historical importance.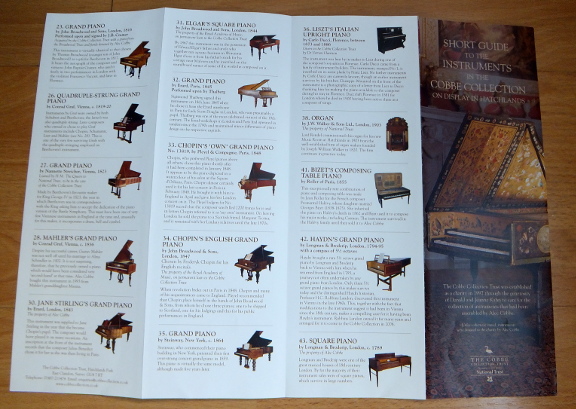 Cobbe Collection Trust's short guide to 35 keyboard musical instruments at Hatchlands, which is being updated

The reason I should have brought a keyboard player is that there are over 35 keyboard instruments with interesting provenances distributed about the house or in the collection. Alec Cobbe began the collection with a single instrument in 1968 and, unusually, they are all kept in playable condition and many are used for concerts each year at Hatchlands.

These include: a Ruckers harpsichord, King Charles II's virginals, Johann Christian Bach's square piano, a Weber spinet, Marie Antoinette's Erard square piano, another square piano that belonged to the Napoleon and Borghese families, a Shudi and Broadwood double manual harpsichord, clavichords, Mahler's grand piano, Elgar's square Broadwood piano, Chopin's 'Own' Pleyel grand piano and his English Broadwood grand piano, Liszt's Italian upright piano, Bizet's composing table piano, Haydn's grand piano, a Sneltzer chamber organ and the 1903-4 Walker organ in the Music Room.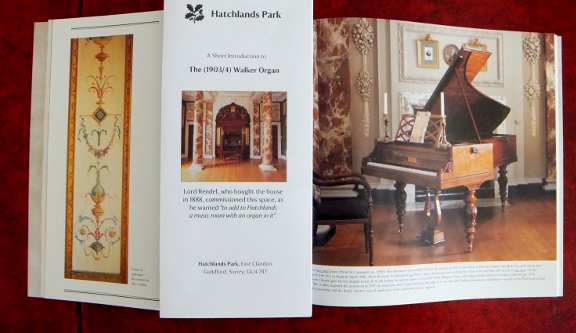 Contents of the house range wide from Chopin's piano, to a Walker organ, to Alec Cobbe's arabesques in the Dining Room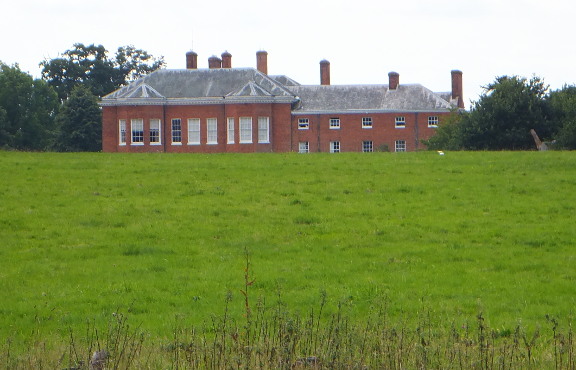 Looking down the hill at the house