Read our Copyright Notice click here
For publication dates click here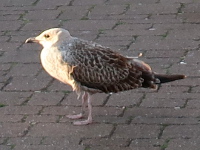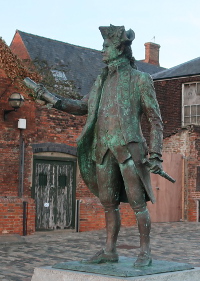 Captain George Vancouver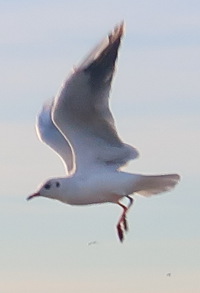 Westward bound into the setting sun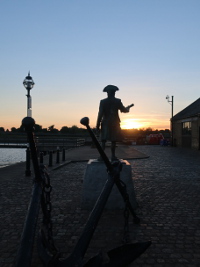 KING'S LYNN

Reviewed by ANDRE BEAUMONT


King's Lynn is the Antwerp of the western North Sea.

In the 14th century it was the third most important port in England after Southampton and London. With the arrival of containers and some inspired entrepreneurship from the 1960s onwards, Felixstowe, more easterly on the North Sea, took over the role of most important port. It is followed by Southampton. London has slipped in importance for physical traffic but Canary Wharf trades more than any other wharf in the world, once again thanks much to inspired entrepreneurship.

In the Middle Ages, too, Antwerp was a dominant, rich port. Then for political reasons the Scheldt was closed to commerce and nearby estuaries took nearly all the trade. The relative decline of King's Lynn was much more gradual and it was still an important port in the 1960s.

Antwerp's unlikely saviour was Napoleon. He reopened the Scheldt to commerce. Antwerp was a vital strategic location for him in maintaining his Continental System and counteracting British power at sea.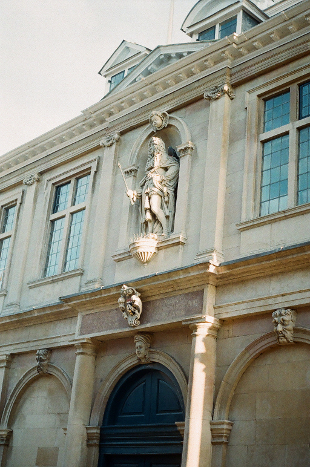 Side elevation, Customs House

The Customs House brings to mind the old docks at Antwerp, the Bonaparte Dock and the Wilhelm Dock. There is even a Hansa House, as in Antwerp, as trading used to be dominated by the Hanseatic League.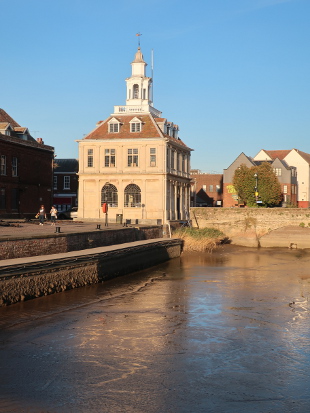 The Customs House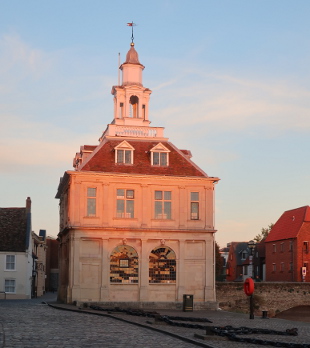 Today Antwerp is Europe's second largest port trailing only its near neighbour Rotterdam. The fortunes of North Sea ports spin in the wind but none are damned. A few silt up, like Bruges, and become tourist attractions.

George Vancouver, born a year before Horatio Nelson a few miles away, was the son of the deputy collector of taxes and port dues at the Customs House in King's Lynn. Due to friendship with the Burney family - now remembered for Fanny, the writer, and Charles, the musicologist - he joined James Cook, who had landed at Botany Bay in 1770, as a midshipman at 14 in 1771. The rest is part of the history of the West. Only with the development of a transatlantic trade in manufactures did Liverpool become a more important port.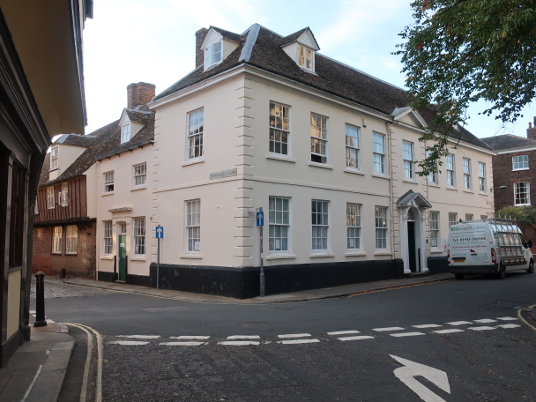 Grade 1 listed, behind its classical front the Hansa House is a mediaeval warehouse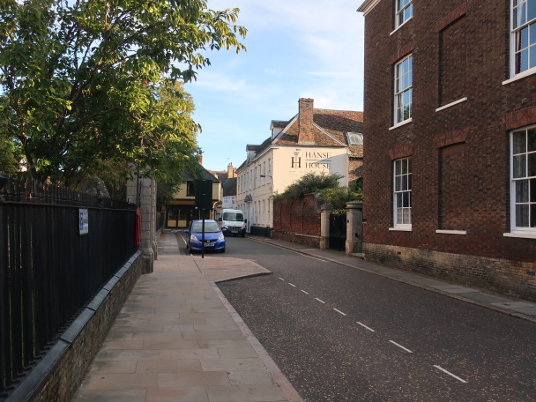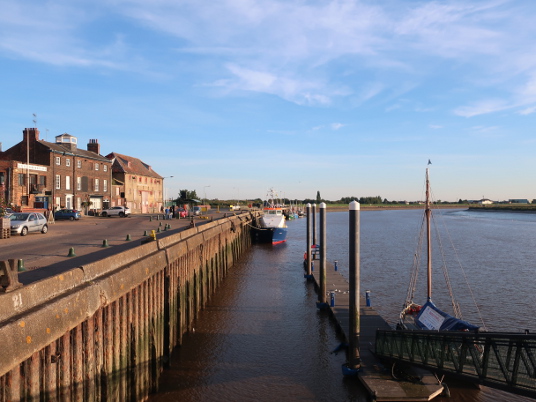 The Great Ouse does little in commercial trade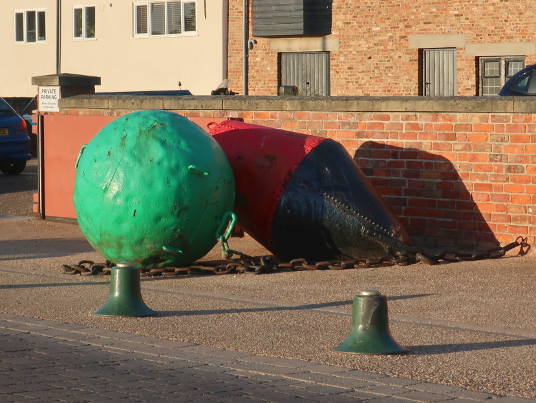 There is little point in what is called industrial policy in Britain being tied to a ball and chain of orthodoxy. We must, of course, continue to make sure our industries grow in number and not contract but there are other skills very much embedded in the DNA of modern Britain as seafaring skills were in the 18th century.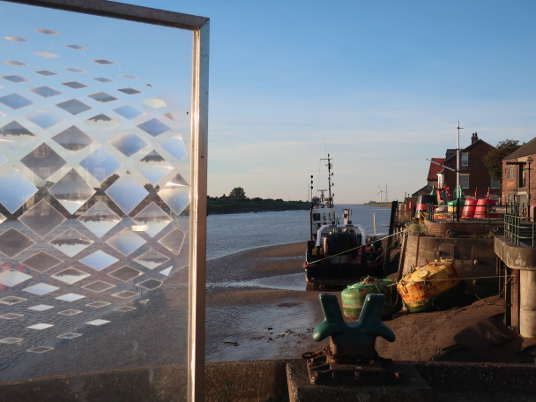 A window on the world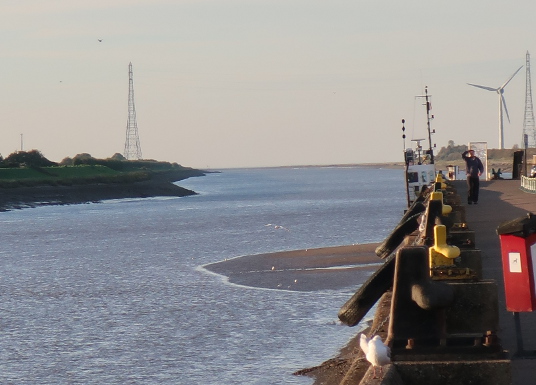 French revolutionary politician, Barère, disparaged England as a nation of shopkeepers. Shopkeeping is finally dying but the ability to trade, make markets and the language to do it are not.

In the estuary beyond King's Lynn you can see wind turbines and power pylons. On Canary Wharf and in the City, markets are made in all sorts of things. Perhaps in some things, like carbon credits, markets are not made to the full extent they could. Other markets will develop in other things we cannot fully predict. Satellite time?

There is no insuperable reason why a port like King's Lynn could not become a trading hub for one. Physical connection is not essential. For decades Canary Wharf had poor road, rail and air links. Yet King's Lynn is closer to the middle of England and the North Sea than many places.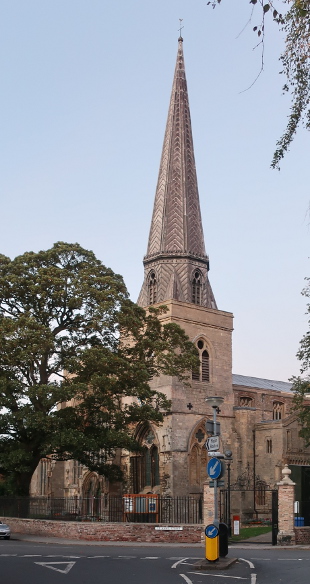 St Nicholas' Chapel

The fortunes of places will flow and ebb. Industrial policy, though, cannot be made on the basis of glib phrases like 'brain belt'. A string of new settlements between Oxford and Cambridge is a reasonable enough concept, on the grounds of a housing shortage, but the idea that both poles will provide lots of industrial employment is far fetched. Research is an industry in itself, quite different from application, and it loves the kind of cluster where one can get back to the lab after dinner or where ideas can be discussed in the evening over nothing much. Commuting is not its thing and aspiring spires at one end and open skies the other does not make a belt.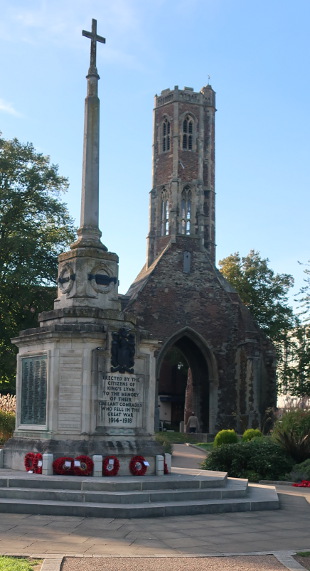 Greyfriars Tower and war memorial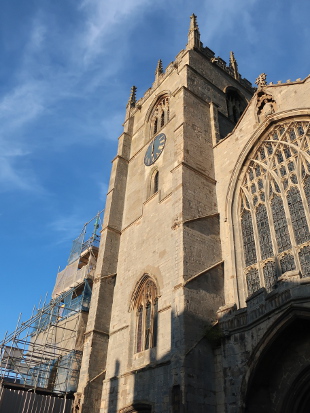 The Minster

Ports have a capacity to come up with something unpredictable. Antwerp, a prosperous one, is capital of the world's diamond trade, having edged out some of the functions London performed over the decades. Hatton Garden even has had to copy Antwerp and have a bank vault heist (subject of a motion picture released this month).

King's Lynn has some fine jewelry, too. Just don't squirrel it away in a vault.