Read our Copyright Notice click here
For publication dates click here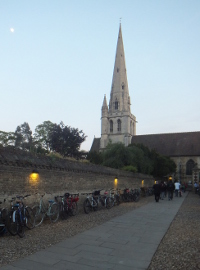 All Saints Church from Jesus College

Here are my notes from the previous week, made on 20th October 2018, mainly about the venues:
Hugh Rowlands has just been playing Jehan Alain's Le Jardin Suspendu, real ethereal stuff, on the Victorian-sounding organ, in Queens' College Chapel by George Frederick Bodley.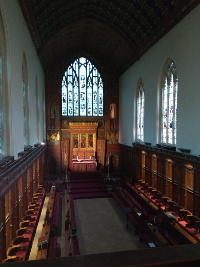 View from the organ loft
This is a splendid venue for organ music. Hold onto the oak arms of the rearmost pews - those against the walls - and you can feel the 16 foot pipes vibrate right through you.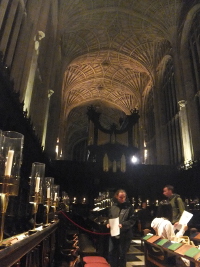 On to King's College Chapel for another recital (Henry Websdale and Dónal McCann). Here English Gothic reaches its apogee and endpoint in the fan-vaulted ceiling. The acoustic for organ is very dependent on sound reflections and the reverberation time is long despite the organ being located centrally to compensate. There is real grandeur in the sound volume and here you feel all the bass notes through the vibration of the marble flagstones, in a structure of architectural brilliance and yet immense stability.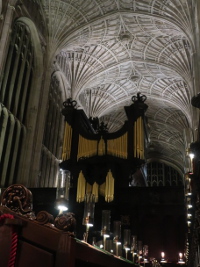 *****
Lucile Dollat teaches at the Paris Conservatoire and is titular organist at two Paris churches.
From September 2022 Lucile Dollat will be organist in residence at Radio France. Her inaugural concert will be on 29 September 2022.
*****

Robinson College Chapel organ and more

More explorations on the theme, sound or probably not.



LUCILE DOLLAT

Reviewed by ANDRE BEAUMONT


Lucile Dollat is a graduate student at the Conservatoire de Paris. On the 27th October 2018 she gave a recital on the Binns organ in Queens' College Chapel.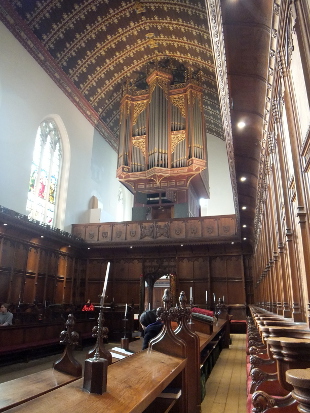 Queens' College Chapel

Its casework is by George Frederick Bodley, who designed the chapel and also the Grade I listed All Saints Church in Jesus Lane, Cambridge.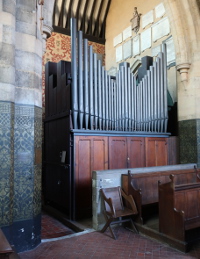 Foster & Andrews of Hull organ, 1864, at All Saints Church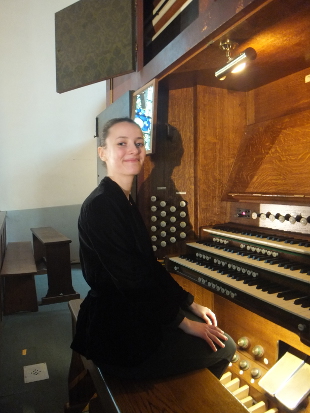 Lucile Dollat at the console of the Binns organ

In the first two pieces, J.S. Bach's Passacaglia and Fugue in C minor BWV 582 and C. Franck's Deuxième Chorale, she really did explore the 16 foot ranks, which are all very hearable. She is an organist with a sense of the dramatic. This is the first time she has played on an English organ. She takes the risks and is very impressive.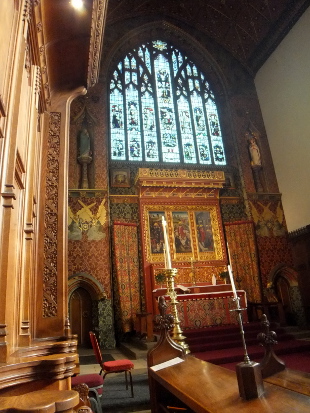 The altar from the pews

In the next two pieces, R Schumann's Canonic Study in B minor Op.56 no.5 and the modern Étude pour les tièrces by G le Dréau, she progressively explored the flutes, shorter and other pipes.

In the last piece, T. Escaich's Eaux Natales from Poèmes pour l'orgue, so many of the stops seem to have been pulled out and she confirmed later that all the stops were used during the course of the recital. There are 32 speaking stops.

This was a confident exploration of the organ which delighted the audience.