Read our Copyright Notice click here
For publication dates click here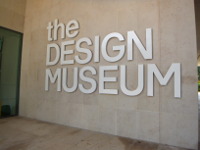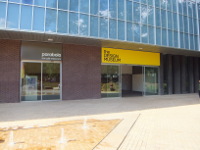 Entrance - low key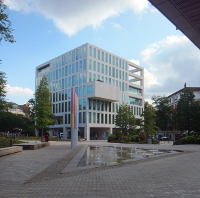 New fountain pool and office block on the old forecourt
Go up the stairs.... or sit on benches rather like piano keys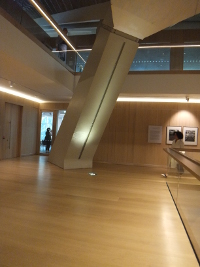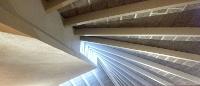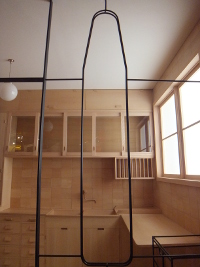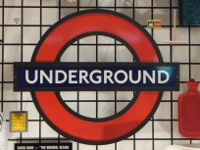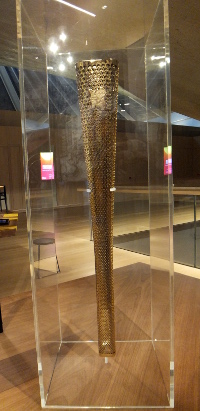 London 2012 Olympic torch
*****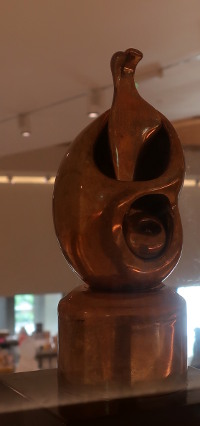 Henry Moore, Mother and Child: Egg Form, 1977, presented to the museum upon winning the European Museum of the Year Award 2018
*****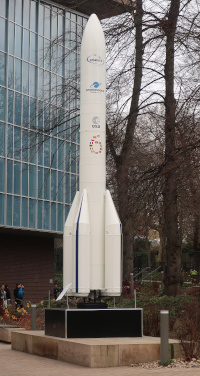 1/10 scale model of Ariane 6 launcher, January 2020



THE DESIGN MUSEUM

Reviewed by ANDRE BEAUMONT


The old Commonwealth Institute, with it processional entrance, pools in the forecourt and swooping, parabolic copper clad roofs was a building that made brilliant use of external space. It was modernity on the edge of a park on a par with Denys Lasdun's Royal College of Physicians building, with its curved wall, on the edge of Regents Park, both built at the height of international modernism but when London was still a laggard in having a sufficient number of good modernist buildings.

I have always liked buildings .... how once in place they shape internal space, provide vistas, interact with their setting and create local external space. I like buildings more than design when the chips are down even though design is an integral part of architecture. Design can excite intellectual passions but buildings can affect you elementally, like a mountain, altering perceptions of mass and light when you are near them or in them. So in general, rather than here, I am reluctant to see a building that works removed simply because someone thinks they can design something better.

At the Commonwealth Institute, since closed for many years, I found the building uplifting but the exhibits a little dull.

The Design Museum now inhabits the building of the Commonwealth Institute, shorn of its external stage setting. The new external setting, shaped by commercial considerations, is on its way to being elegant enough, with its triangular spaces and Paolozzi sculpture. All needs tweaking to take on more character. The garden, once planted and grown, promises more.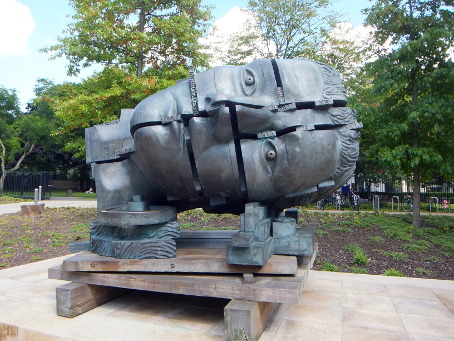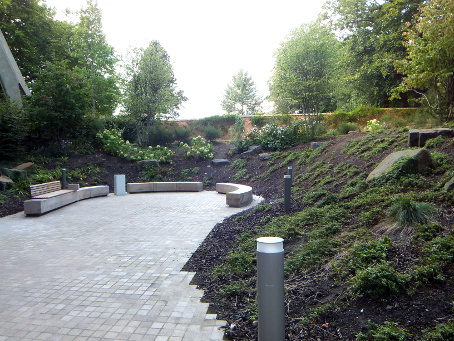 The old entry route was a little more dramatic, however, as a plaque inside chronicles:

Visitors to the Commonwealth Institute entered the hall via a bridge, leading to a central platform in the middle of the building. From here they could go up or down to individual galleries by way of suspended staircases. The route was designed to create a sense of drama, and to show the roof and galleries to best effect.

So going to the Design Museum in its new home I was ready for design exhibits to exert their primacy over the building and point out where I had strayed - but no.

The elegance of John Pawson's interior architecture easily won me over, the elemental nature of the spaces and the building easily came across, and the design exhibits were, well, familiar but like the Commonwealth Institute exhibits a little dull by comparison.

Museum policy, though, by design one hopes, is bang up to date for the next decade. There are no visible security guards, there are no prices on goods for sale in the shop, there is next to no restriction on which rooms visitors can go into (keeping the element of choice of where you go from the central core found in the Commonwealth Institute) and there are no room attendants giving misleading accounts of exhibits or the building, which does not mean there is none of security, prices and attendants. Good design is about moving old attitudes (rather than old designs) out of the way.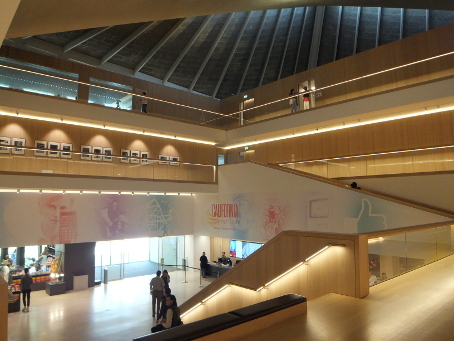 The entrance from the mezzanine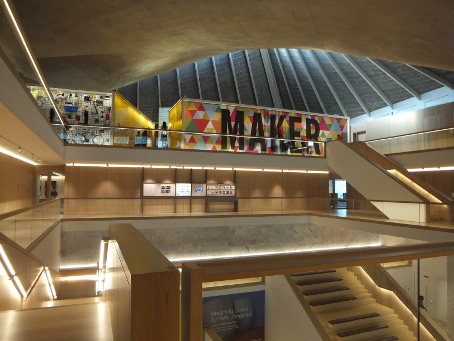 The architecture steals the show until you get to the permanent collection on the second floor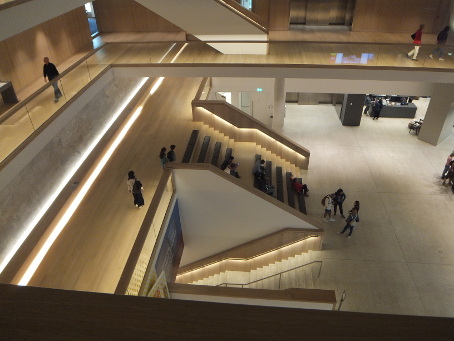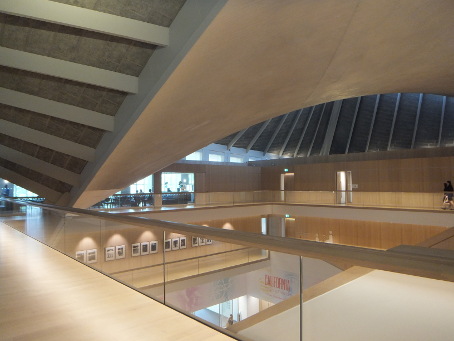 Design is the bit that human beings do that is not merely execution and so is at the core of some types of creativity. In her self-portrait, The Artist in the Character of Design Listening to the Inspiration of Poetry, which can be found in the Iveagh Bequest at Kenwood, Angelica Kaufmann R.A. styled herself as Design. She could not easily have styled herself as a painter, or perhaps it might not have been proper to do so, as before her there were in the eyes of the world no women who were painters whilst remaining ladies, or at least not in Britain. To be a painter and remain a lady you had to adopt some ruse or cover like painting in your father's studio producing paintings that would be sold under his name. (By 1786 Marguerite Gérard [1], niece of Jean-Honoré Fragonard, would be receiving a substantial sum at auction for a work by her own hand.)

There was no insuperable obstacle to a man being a painter and a gentleman - look at Rubens who was also offered a title of nobility which he declined, partly so he could marry who he liked.

By styling herself Design she showed herself to be the clever woman she was. She worked on several decorative panels in houses designed by Robert Adam, which is how I first became aware of her work. Of the decorative artists he employed, she and Antonio Zucchi were probably the best. Surely, though, if she was Design she was not merely executing but also a creative artist?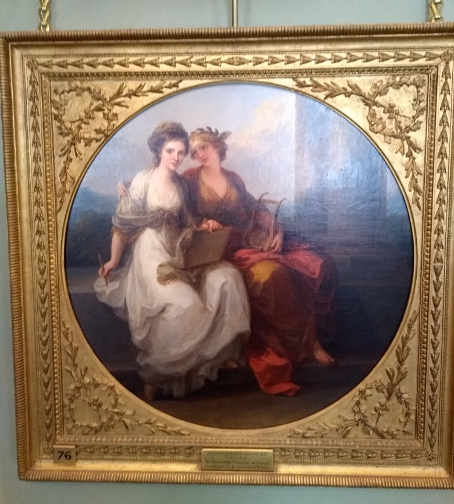 Design .... moving old attitudes out of the way

So which was her first love?

Art? Design? Architecture? Buildings? .... and how should we go about disentangling them, for if you look at her wonderfully designed and executed canvasses ranged at eye level along one wall of a room at Kenwood, she was master of art and design .... and Robert Adam was of all four.

The artist, the architect, even the critic, will return to themes over and again until they are established in public consciousness, given the chance.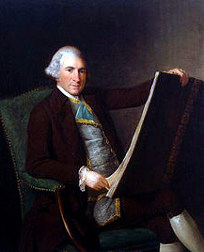 Robert Adam

Adam created the Etruscan architectural style. In Works in Architecture of Robert and James Adam he says of his Etruscan work at Old Derby House:

a mode of Decoration has been here attempted, which differs from anything hitherto practised in Europe

....which was true. He had taken detail from Greek vases, excavated in Italy - and mistakenly thought at the time to be Etruscan - and applied it to interior decoration. His vase detail was, in practice, not particularly Greek either; it was an exquisite creation of his last years as a practising architect.

The Design Museum commences its montage panel of industrial design with Josiah Wedgwood, who imitated the Greek style in his Etruscan wares and named his works Etruria.

As an exhibit records:

English potter Josiah Wedgwood established one of the world's first modern factories in 1759, when he shaped products to appeal to consumers and found ways to manufacture them as efficiently as possible. Working with artists such as sculptor John Flaxman and painter George Stubbs, Wedgwood introduced classical motifs to domestic china. His complex of potteries worked on industrial - rather than workshop - scale and produced large numbers of identical objects.

His Etruscan wares sold like hot cakes. In 1768 he wrote about his London agent:

Mr Cox is as mad as a March hare for Etruscan vases.

The world had changed.

Imperceptibly, a woman had seized a creative baton from men.

An area of design leadership had passed from individuals to industry and many more would follow. A delight of the present time is that Silicon Valley has made it possible for design leadership to be handed back to individuals, for the prolific creativity of people like Robert Adam to find expression again with minimal genuflection to company or institution, as before the industrial age.

The world has changed again. It is just that the opportunities have not yet been seized properly.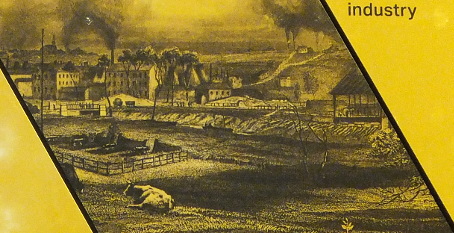 Industrial designer Josiah Wedgwood's Etruria works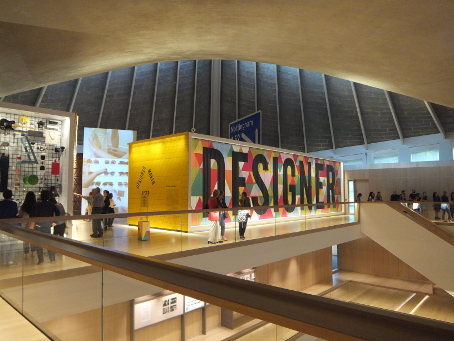 Permanent collection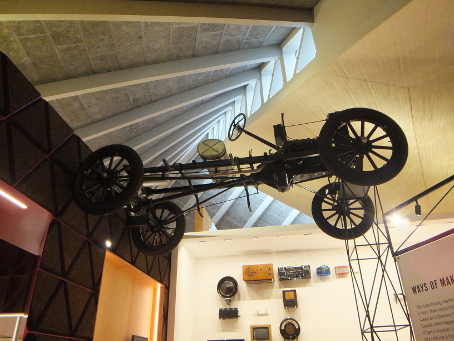 Art? Design? Architecture? Buildings?