Read our Copyright Notice click here
For publication dates click here
Contemporaneously the reviewer was playing a small part in helping save the nearby Smithfield Market from demolition and Oliver Bevan was working on his Inner City Paintings in Cowcross Street where the new interchange is now found.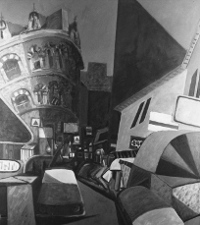 The fight to save Smithfield Market has long since passed to English Heritage and the invaluable efforts of the Prince of Wales.
The first underground railway line ran between Baker Street and Farringdon and was completed in 1863. It was essentially a cut and cover line which is technically much easier to build than today's mostly deep running lines. A restored locomotive and carriage as seen in the print made a test run in the early hours of Sunday 16 December 2012 passing through Farringdon Station in advance of the 150th anniversary of the Underground on 9 January 2013.
On 20 March 2013 the Queen, the Duke of Edinburgh and the Duchess of Cambridge made a visit to Baker Street Station to mark the 150th anniversary of the Underground and saw the restored train during the visit.
---
16 March 2014

It is almost axiomatic that if you build a new railway you build new towns along it. They add purpose to having the railway and by providing passengers and traffic improve its finances. So it should be no surprise that today's announcement of plans for a first new garden city locates it at Ebbsfleet on HS1, otherwise known as the Channel Tunnel high speed rail link.

Announced a few months ago also were plans for much needed improved rail facilities at Gatwick but the absence of any proposals to provide new rail links from it to London do not help it rise in the stakes to be the site of the sole or first new runway in the south-east. If anything, the Heathrow proposals gain by the omission and a new garden city at Ebbsfleet raises the prospects of a new airport in the Thames Estuary slightly relative to other options.
---
31 March 2014
With Network Rail announcing today it will spend £38bn over the next five years, a fully costed and publicly inspectable Alexandra Palace to Wimbledon Crossrail 2 scheme is needed soon so that it can try to qualify for the next tranche of infrastructure spending after the election with Londoners' support.



120 MPH SERVICE AT WIMBLEDON

Reviewed by ANDRE BEAUMONT


5 October 2012

In the early years of the gestation of Crossrail I was working in the underground railway industry.

The enthusiasm of its main advocate impressed me but I had some doubts.

Having recently saved the oldest underground railway train shed in the world at Farringdon Station from demolition through the internal political processes of London Regional Transport I was apprehensive that a new line coming through Farringdon would end up simply demolishing it for want of space for an interchange station. (The station has since been Grade II listed).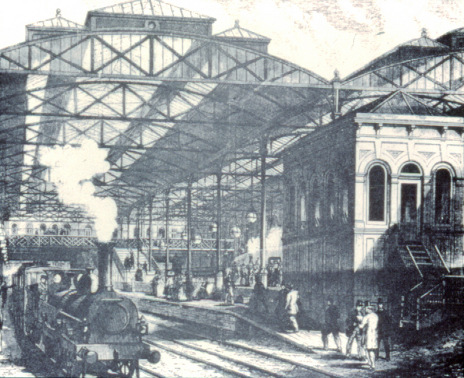 Farringdon Station's 'train shed' in Victorian times

This led me eventually to pen an article proposing something different, unrelated to the Crossrail proposal.

Looking at the London Underground network it was clear that there were quite a few good east-west lines already but no modern north-south ones that served south London with the exception of a short stretch of the Victoria Line. (The situation is a fair bit better now and improving).

The Northern and Bakerloo lines were particularly antiquated.

Since the content was not architectural enough to go in the architecture press I sent it to a newspaper which spiked it. (The moral, of course, is own your own press if you want freedom of expression).

Perhaps the ideas were too radical, I thought at the time, though they are not now.

What it proposed was that a private company build a single north-south Underground line across London with plenty of interchanges at existing stations. It would share a common ticketing system with LRT but otherwise be built and operated entirely independently of LRT.

The railway culture at London Underground was and is fine but it is fair to say that the management ethos at LRT at the time was a little staid and the idea was to spur it on to better things by having some competition on its patch.

Though Margaret Thatcher was at the height of her powers, it was radical because although many proposals were being executed to privatise utilities in their entirety, none were being made to energize unthreatening monopolies like LRT by giving them a bit of competition.

Years later some private capital was introduced into the underground railway system, in a cack-handed way, through the failed public private partnerships and without building a new line.

Francois Mitterrand was known for the grands projets he started in Paris (finished under Jacques Chirac), and one gets the impression that we are not allowed to forget these Parisian achievements, but London has had three set on their course this millennium almost without us noticing - the Millennium Dome, the London 2012 Olympics and Crossrail.

What could be a fourth?

Not long ago the idea of a Heathrow to Gatwick fast rail link was proposed.

It would have to be a fast link not a high speed link for a number of reasons.

The proposed London to Birmingham HS2 link is billed as being able to run trains at 250mph (400 kph).

Because of wind resistance the last 50mph (80kph) of this train speed puts a call of many megawatts per train on the electricity grid. It also requires the track to be as straight as possible and for there to be few stops. (In theory there is little point in shaving minutes off transit times to then relinquish the gains by stopping).

Short of building an underground Roman road, straight as an arrow, a Heathrow to Gatwick line would have to be curved, or more likely sinuous (as the Piccadilly Line is reputed to be near Knightsbridge to avoid a plague pit). This would necessarily reduce speed - with 120mph being a realistic maximum on the fast, open sections.

This reduced speed, though, provides an opportunity for enthusiasts for underground railways - it could be a proper underground railway for south London as Crossrail will be for north-central London, with multiple stops.

An advantage of underground railways is that stations can be below ground, limiting the footprint at surface level.

Passengers might be able to fly in at Heathrow or Gatwick and emerge a few minutes later at Wimbledon for the tennis or near their home in south London.

It seems a pity, however, given a housing shortage in Britain, to build a new railway without building a new town somewhere along the route. These days new settlements usually struggle to get good transport infrastructure laid on.

Going for it wholesale and building a town of, say, 150,000 homes could make sense.

There is, however, a problem with selling a great many homes in a single, expensive location over a short period of time.

In the past in Britain, people used to enter into 7-year or 21-year leases.

The 7-year leases were much like any other. The 21-year leases usually required the payment of a premium but were also tradeable.

Even with a different legal framework (for new town corporations, for instance) such long leases could only realistically be applied to new build properties these days. To apply them to private owners of existing dwellings would be unfair as people working away on short contracts need their homes back, for example, and there are many other reasons why it would pose problems.

However, to get a large new town occupied quickly, some properties could be let on term leases of this kind so that a flow of refurbished houses could appear on the market progressively later.

By slowing down the trains a bit to provide more stops and to serve a new town the line also ceases to be dependent on how the airports choose to, or are permitted to, develop. So clarity on how the airports may develop is not a precondition for the line.


____________________________________________________________________________

Postscript 9 June 2013


Within two weeks of the above, Gatwick announced that it wished to proceed with a second runway from 2019 which would make London a two airport hub city (there are three major airline alliances) but to 'fly' properly either 1) an underground railway link or 2) a two-track high speed rail link or 3) a four-track rail link with two dedicated to express transit would be needed between Gatwick and Heathrow.

An architectural practice called Make then floated an idea for a two hub solution comprising Heathrow and Stansted linked via a form of extension to Crossrail but informed opinion sees this as a non-flyer given the separation distance and the declining number of airlines using Stansted.

The proposal for a Thames estuary airport demonstrates ground-breaking ambition but would need investment on a scale unseen recently in England.

So the leading runners for more runways are:

Expansion at Heathrow;

Expansion at Gatwick with a rail link;

Expansion at both Heathrow and Gatwick with or without a rail link;

A Thames estuary airport.

Transport for London also last month announced a consultation on Crossrail 2 with two proposals for routes that replace the long-standing but somewhat unloved proposal for a Chelsea-Hackney line.

Both new proposals run lines to Wimbledon (an idea floated first here last year) which the Chelsea-Hackney proposal, certainly in unextended form, did not.

The first Crossrail 2 proposal, called Metro, runs from Wimbledon in south-west London to Alexandra Palace in north-east London. The second proposal, called Regional, is essentially the same proposal with scope for overground lines to mesh with it near either extremity.

From a lifetime of watching how difficult it has been to gain funding for long stretches of underground railway in London - indeed none was built in a single stretch as long as Crossrail in the preceding 50 years - Metro is the one to back though both are very acceptable. Regional looks like the sacrificial lamb of the two, though the extensions at either end would make future airport rail links easier and relieve the Liverpool Street overground lines by providing more capacity.

Metro with a Gatwick-Heathrow line intersecting with it at Wimbledon would be a good solution for many air passengers because the latter line could have fewer stops (or just one intermediate one at Wimbledon) and because, unlike Crossrail 2 alone, it could raise private capital from the outset.