Read our Copyright Notice click here
For publication dates click here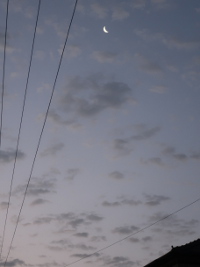 Dawn, moonlight and rapidly moving clouds
Shortly after buying Strawberry Hill Horace Walpole wrote:
"Pope's ghost is now skimming under my window by a most poetic moonlight."
Alexander Pope had lived nearby.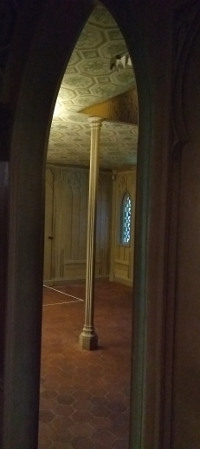 Abstract electric light, add a few tapers and you can imagine a few ghosts here. For Walpole the Gothic style created "gloomth".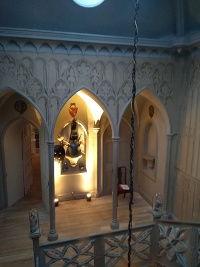 A view from the staircase landing is said to have inspired him to write The Castle of Otranto, the first Gothic novel.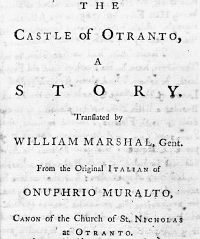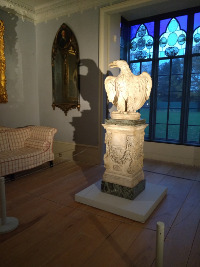 ****
Henrietta Howard, who lived at nearby Marble Hill House, which is to undergo its own restoration by English Heritage in 2019-2020 and then move to free admission, was a great friend of Horace Walpole.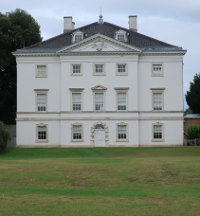 Marble Hill House, which is a double-fronted Palladian villa initially designed by Colen Campbell, was in the 18th century most safely approached by river to this south elevation. It lies on the opposite side of the Thames to Petersham Lodge.
Portrait of Henrietta Howard the day before the Platinum Jubilee of Queen Elizabeth II in the impluvium inspired hall at Marble Hill which visitors coming off the Thames would have entered first.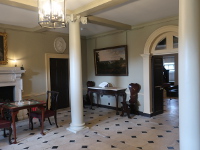 The four walls make a square within which four columns make an internal square. In a Roman villa the latter would be open - where the chandelier is - to the elements.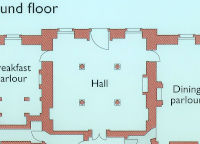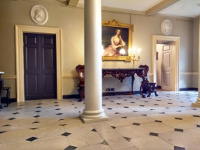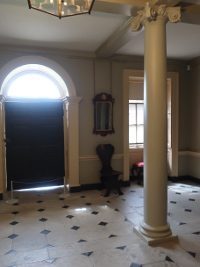 This was a charming innovation to her celebrity friends, like Pope who even commandeered the space to entertain in when she was away.
To make this house really sing, visitors need to be admitted through the Thames-facing door first (despite some practical difficulties in doing so), leaving it open in the summer with sun coming in illuminating the would-be impluvium.
How she entertained here in summer might be left to the imagination.
She [1] did not have much to spend on internal decoration so it probably had an al fresco feel.
****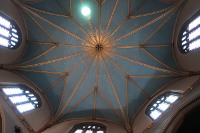 Neo-Gothic St Dunstans, Fleet Street, London, circa 1832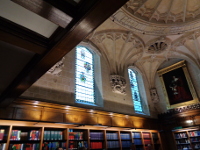 Neo-Gothic Supreme Court, London



STRAWBERRY HILL

Reviewed by ANDRE BEAUMONT


There are few extant cultural artefacts that have had such an effect on the imagination of a country as Strawberry Hill House.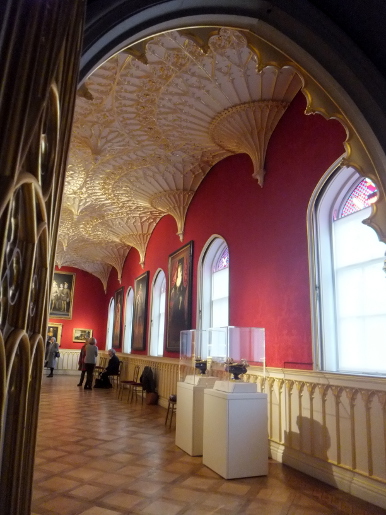 Kenneth Clark said in Civilisation, itself a television series that impinged a lot on the cultural imagination:

Eighteenth-century England was the paradise of the amateur; by which I mean, of men rich enough and grand enough to do whatever they liked, who nevertheless did things that require a great deal of expertise. One of the things they chose to do was architecture ....

.... In a way these eighteenth-century amateurs were the inheritors of the Renaissance ideal of universal man. Leon Battista Alberti, the typical universal man of the Renaissance, had also been an architect, and if we may still consider architecture to be a social art - an art by which men may be enabled to lead a fuller life - then perhaps the architect should touch life at many points and not be too narrowly specialised.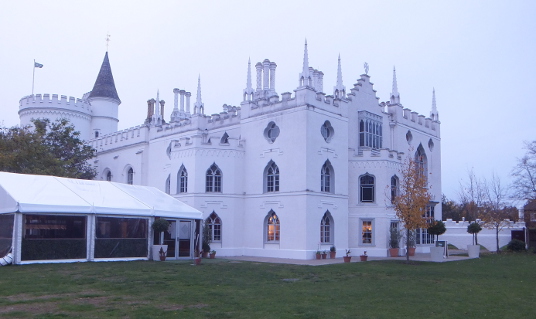 Horace Walpole was certainly one of this breed of amateur.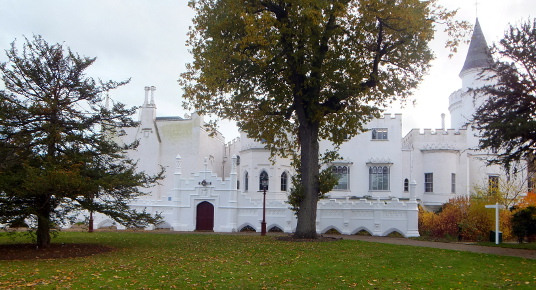 Strawberry Hill is architecture but architecture subordinated to many ideas.

So vaulting was created in plaster, wood, papier maché and gold leaf and not by the hand of a stonemason.




Walpole set up a "Committee of Taste" or "Strawberry Committee" to design an expansion of the property consisting of himself and two friends, Richard Bentley and John Chute. Bentley was the son of the the Master of Trinity College, Cambridge (Walpole has studied at King's and was an admirer of the Chapel's fan vaulting) and Chute the owner of The Vyne at which the Committee also worked. These days such a group of friends might set up a band not design a building.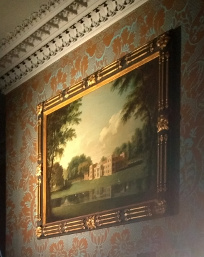 The Vyne


Bentley designed much of the layout of the first expansion of the house and the ceiling in the Library is a joint design of Walpole and Bentley.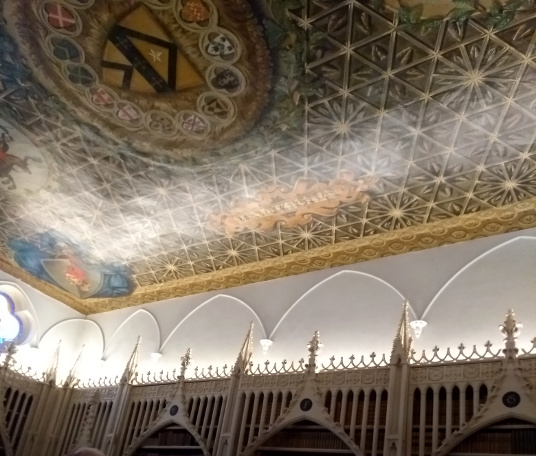 Library ceiling

Chute became an amateur architect, Walpole and Bentley essentially did not. Walpole did employ two architects for parts of the structure at different times - William Robinson and James Essex - and also Robert Adam for the Round Drawing Room but the external forms of the buildings lack any overall unified coherence.

However, they make up Strawberry Hill Gothic and wherever you go in the world, from seaside villas, to suburbia, to the most expensive districts in the world you see this ad hoc style, and with the Strawberry Hill imagery often quite closely picked up.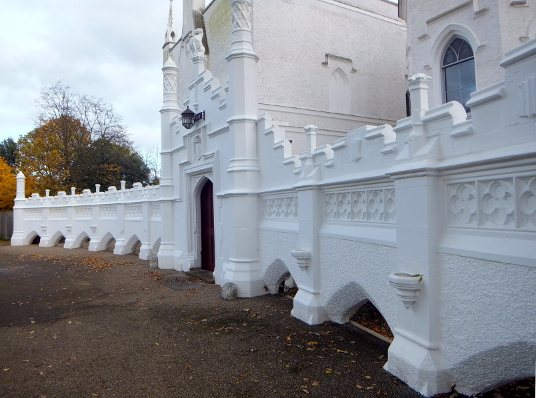 It is the contradictions of Strawberry Hill that captured the imagination so much. Gothic detail in classical buildings, professed "gloomth" but airy lightness, copying stonework as light touch interior design, bright colours and a refined collection of artefacts, religion's high seriousness transmuted into vaulting, playful, decorative detail, and open to visitors who could buy tickets to visit the house.

Without it Gothic Revival architecture, in the form it took shape in the Victorian era decades later, is hard to imagine. Neo-Gothic seized the British secular and religious imagination in a way it did in no other country but always cognisant of how Strawberry Hill had broken the rules of how a 'Gothic' building could be put together, how surface did not have to read through to structure as it had had to do with real Gothic.

As the industrial world was commencing, this was a building that looked both backwards and forwards in time with joy. Added to which it inspired the first Gothic novel.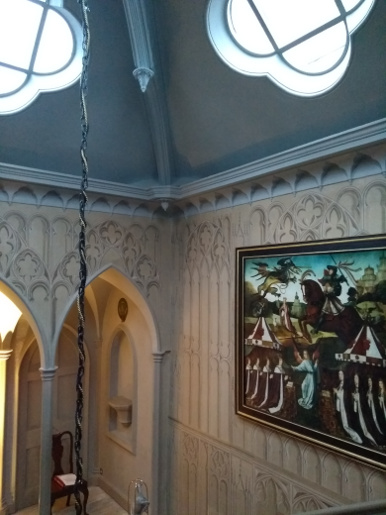 When Chute replaced Bentley planning changes alongside Walpole, the pair turned serious in their research. Detail was copied where it could from Gothic buildings but not at all in the same materials and always with a lightness of touch.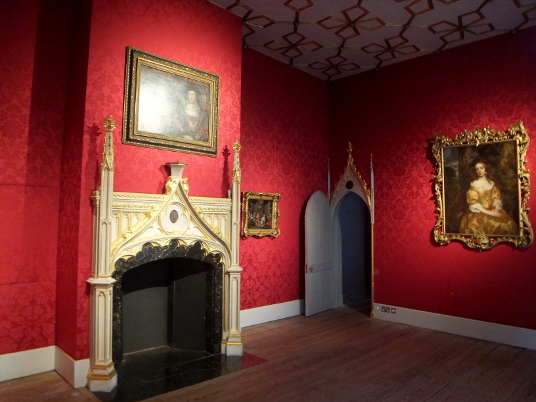 For five months the house is reunited with many of its treasures dispersed in a sale in 1842. For this period it has truly become a museum, in the style of the Soane Museum perhaps but more sumptuous and more orderly. It is holding an exhibition, Lost Treasures of Strawberry Hill.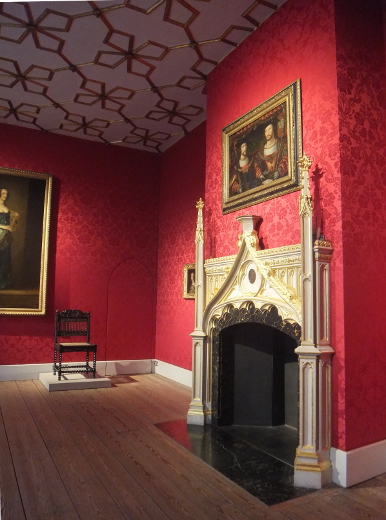 It is the Gallery that has featured in every British child's history books. The ceiling draws substantially from a vault in Westminster Abbey but the room's layout is that of a state room in a classical building.